This vegetable pulao recipe south Indian style, is a lip-smacking spicy rice dish.
They are prepared by cooking rice with several spices, vegetables, and herbs that give it a mild aromatic taste. 
This south indian vegetable pulao recipe is fluffy and light, deliciously tasty, and never sticky, plus it is super easy to prepare. 
This vegetarian dish is great on its own or paired with pickle, chicken curry, raita, or Thai shrimp curry.
How To Prepare Pulao South Indian Style?
Ingredients
½ cup basmati rice

2 tablespoons oil

1 cup of water

1 medium finely chopped onion

¼ cup green peas

¼ cup carrot, finely chopped

3 tablespoons French beans, finely chopped

1 small finely chopped tomato

½ teaspoon red chili powder

1-inch piece of cinnamon

¼ teaspoon garam masala powder

1 small piece of Bay leaf 

2 cloves 

1/8 teaspoon turmeric powder

1 teaspoon ghee

2 tablespoons coriander leaves, finely chopped

Salt to taste
Instructions
Rinse rice and soak in water for 15 to 20 minutes. Drain and set aside until required.

Heat oil and ghee together in a pressure cooker on low heat. Add cinnamon, cloves, bay leaves, and sauté for about 30 seconds. Add onion and fry it for 2 minutes until light brown. 
Stir in green peas, chopped tomatoes, carrot, and French beans, and stir-fry them for about 2 minutes.
Add drained rice, red chili, turmeric powder, garam masala, salt, and cook

south indian pulao rice recipe

for 2 minutes.

Add 1 cup water and combine well.

Cover with cooker lid and cook over medium heat for 2 whistles. Reduce the heat to low, when the first whistle is completed, and cook until the second whistle. Remove the cooker from the stove.

Let spicy vegetable rice cool at room temperature until the pressure inside the cooker reduces naturally. Open the cover carefully and ruffle the mix vegetable Indian pulao recipe with a spoon.
Transfer vegetable pulao recipe south indian style to a serving dish or bowl, garnish with coriander leaves and serve with raita.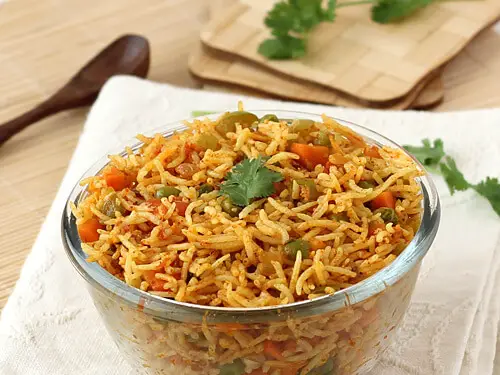 Check Other Amazing Recipes