Have you got a can of white beans, marinara, and eggs? Believe me or not, but you have got brunch. This cheesy and easy homemade baked beans from scratch recipe can be prepared in less than 30 minutes. Serve these easy homemade baked beans using canned beans to your loved ones and receive praise.
Easy Homemade Baked Beans From Scratch Recipe
Ingredients
4 garlic cloves thinly sliced
¾ cup marinara sauce
Black pepper, freshly ground
¼ cup olive oil
2 cans cannellini beans, washed and drained
1 ½ cup shredded mozzarella cheese
5 large eggs
Kosher salt
Toast for serving
Parsley, freshly chopped for serving
Instructions
Preheat the oven to 400°F (204°C). Heat the oil over medium heat in an ovenproof skillet. Put garlic and cook for about 1 minute or until light golden. Now, mix the beans and marinara sauce. Season with pepper and salt and simmer.
Add ½ cup cheese and then top with another ½ cup cheese. Make 5 nests in the beans using a wooden spoon to reveal the bottom of the skillet. Then, take 5 eggs, crack an egg into each and season with pepper and salt. On the crown of beans and eggs, sprinkle remaining cheese.
Move golden skillet to oven and bake for about 5 to 8 minutes until cheese is melted and egg yolks are soft and runny, but egg whites are set.
Garnish Homemade baked beans from scratch with parsley and serve with toast.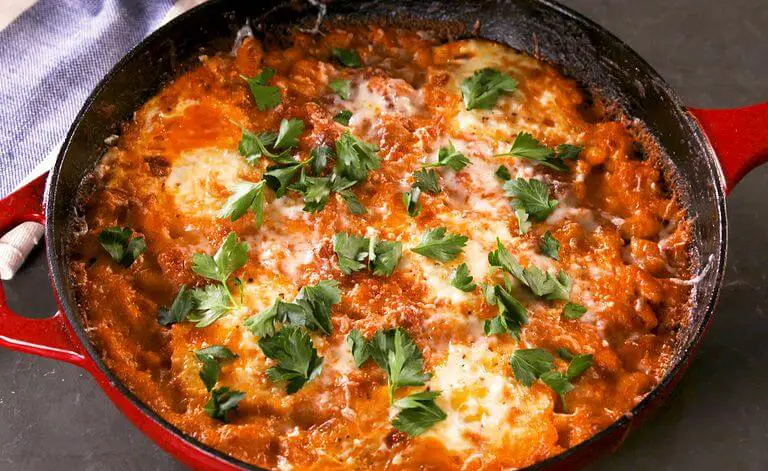 More Healthy Recipes