Easy chicken shawarma wrap recipe Indian—Shawarma is a Middle Eastern dish that is made by using spicy tender chicken soaked in a tantalizing blend of common spices.
It is a soulful part of any meal. If you want, you can grill it or roast it in the oven. It is covered in pita bread, boneless chicken pieces, pickled vegetables, and delicious Greek cucumber tomato yogurt salad spread.
This best chicken shawarma recipe is the favorite on-the-go meal that everyone loves to eat.
THIS POST MAY CONTAIN AFFILIATE SALES LINKS. PLEASE SEE MY FULL DISCLAIMER POLICY FOR DETAILS.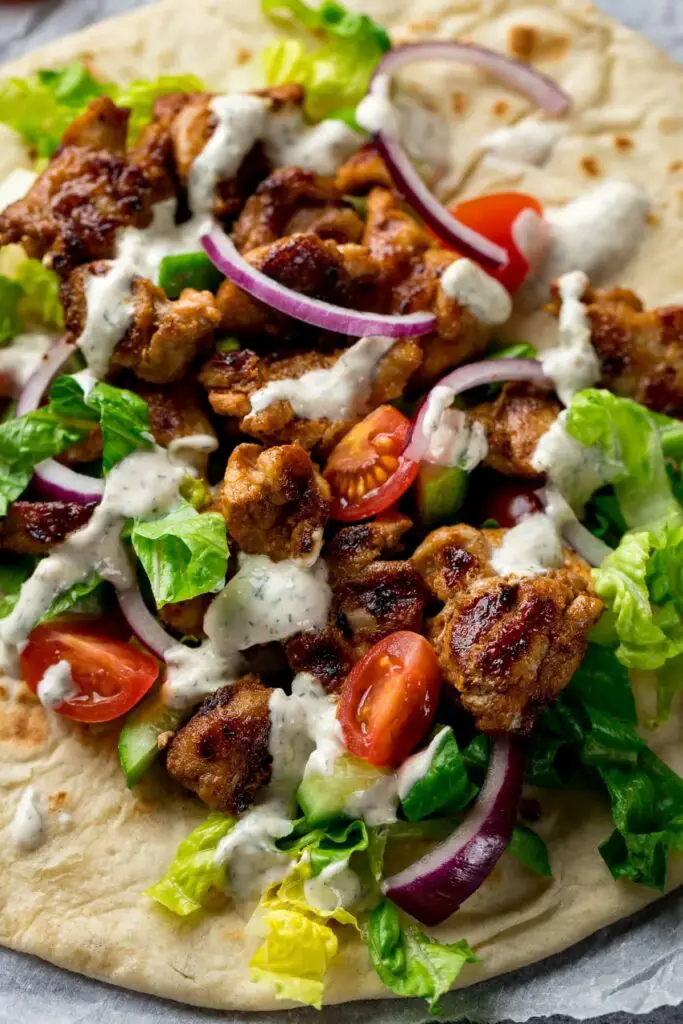 What Is A Shawarma Wrap Made Of?
This street food is made of grilled chicken or beef heavily marinated in vinegar, lemon juice, spices, and oil, cooked in the oven, and then shaved off for sandwiches. It is one of the most popular streets foods in the world.
What's Inside A Shawarma?
Thinly sliced cuts of meat are rolled into a large piece of pita or flat shawarma wrap bread that has been heated. Inside the bread, you can add pickles, veggies, French fries, hummus, etc.
How Long Can Shawarma Last?
You should use authentic chicken shawarma recipe within 24 hours. If you store it longer, it begins to stink and become rubbery. If raw shawarma meat is prepared and marinated properly, it could last for many days.
Easy Chicken Shawarma Wrap Recipe Indian 
Chicken Shawarma Wrap Ingredients
For Chicken
2-pound boneless skinless chicken thighs
3 minced garlic cloves
1 big onion, thinly sliced
½ cup extra-virgin olive oil
½ teaspoon freshly ground black pepper
¼ teaspoon ground cinnamon
1 teaspoon ground cumin
¼ teaspoon cayenne pepper
½ teaspoon ground turmeric
2 teaspoon salt
Juice of 1 lemon
1 teaspoon ground coriander
For Yogurt Chicken Shawarma Wrap Sauce
1 tablespoon extra-virgin olive oil
½ cup Greek yogurt
Pinch of crushed red pepper flakes
2 minced garlic cloves
Salt
Juice of ½ lemon
For Serving
Pitas, warmed
Tomatoes halved
Cucumber sliced
Chopped romaine
Instructions
In a large bowl, mix oil, garlic, lemon juice, and seasonings. Put in chicken and mix to coat. Cover up and refrigerate for about 2 hours or overnight.
Preheat oven to 200°C (425 °F) and with cooking spray, grease a large baking sheet. Stir in the onion to marinade and toss to coat. Remove onion and chicken from marinade and put on the greased baking sheet.
Bake for about 30 minutes until chicken is golden and cooked thoroughly. Remove chicken from oven and allow it to rest on cutting board for 5 minutes and then thinly slice.
For The Yogurt Sauce
Mix yogurt, oil, garlic, and lemon juice in a small bowl, season with red pepper flakes and salt. For making easy chicken shawarma wrap recipe Indian, top warmed pitas with Greek sheet pan chicken, tomatoes, yogurt  sauce, cucumber, onion, and romaine.
More Healthy Recipes