It doesn't matter how busy life gets but it's essential to make time to cook and eat healthy food. Today, I have brought simple chicken fajita bowl meal prep recipe for you guys.
This healthy fajita bowls recipe is delicious, fast, and easy, so preparing lunch for weekends will become easier for you. The quinoa fajita bowl freeze perfectly and are paired with cilantro lime quinoa.
Chicken Fajita Bowl Meal Prep With Quinoa Recipe
Ingredients
For The Quinoa
1 cup Quinoa
2 teaspoons lime juice
¼ cup cilantro
¼ cup teaspoon salt
For Fajita Seasoning
¾ teaspoon Cayenne Pepper
1 tablespoon chili powder
1 teaspoon ground black pepper
1 teaspoon cumin powder
1 teaspoon salt
For The Chicken And Peppers
6 boneless chicken thighs, slice into strips
2 yellow capsicum, sliced and deseeded
2 red capsicum, deseeded and sliced
1 green capsicum, deseeded and sliced
1 large sliced onion
2 tablespoons olive oil
1 tablespoon lime juice
1 teaspoon garlic, minced
½ teaspoon salt
For Topping
Lime wedges
Diced avocados
Guacamole
Instructions
Chicken Fajita Meal Prep Bowls

For the preparation of fajita seasoning, take a bowl, mix ground pepper, cumin powder, chili powder, cayenne powder, and salt and set aside.
Start by adding half fajita seasoning, lime juice, minced garlic, ½ teaspoon salt to the chicken and set aside for about 10 minutes.
Take a pan, heat olive oil in it, then put the chicken in the pan and cook for about 10 to 12 minutes until the chicken is a bit crispy and cooked thoroughly.
Remove the chicken fajita meal prep from heat and take out in a plate, add capsicums and onions to the pan. Add the leftover fajita seasoning and stir fry for 3 to 4 minutes on high heat.
Preparation Of Cilantro-Lime Quinoa
Wash the quinoa in cold water. In a saucepan, add quinoa, ¼ teaspoon salt, and two cups of water and bring to boil. Simmer and cook for 15 to 20 minutes until the quinoa is thoroughly cooked, fluffy, and tender. Once the quinoa is cooked, add cilantro and lime juice and mix well.
Assembling M

eal Prep Chicken Fajita Bowls
For assembling the chicken fajita bowl meal prep, divide quinoa equally into the bowls. Top with pepper and chicken. Allow them to cool a little before placing the covers on top and refrigerating.
Remove the covers on the containers and heat them in the microwave. Top with your desired topping, serve chicken fajita bowls, and enjoy!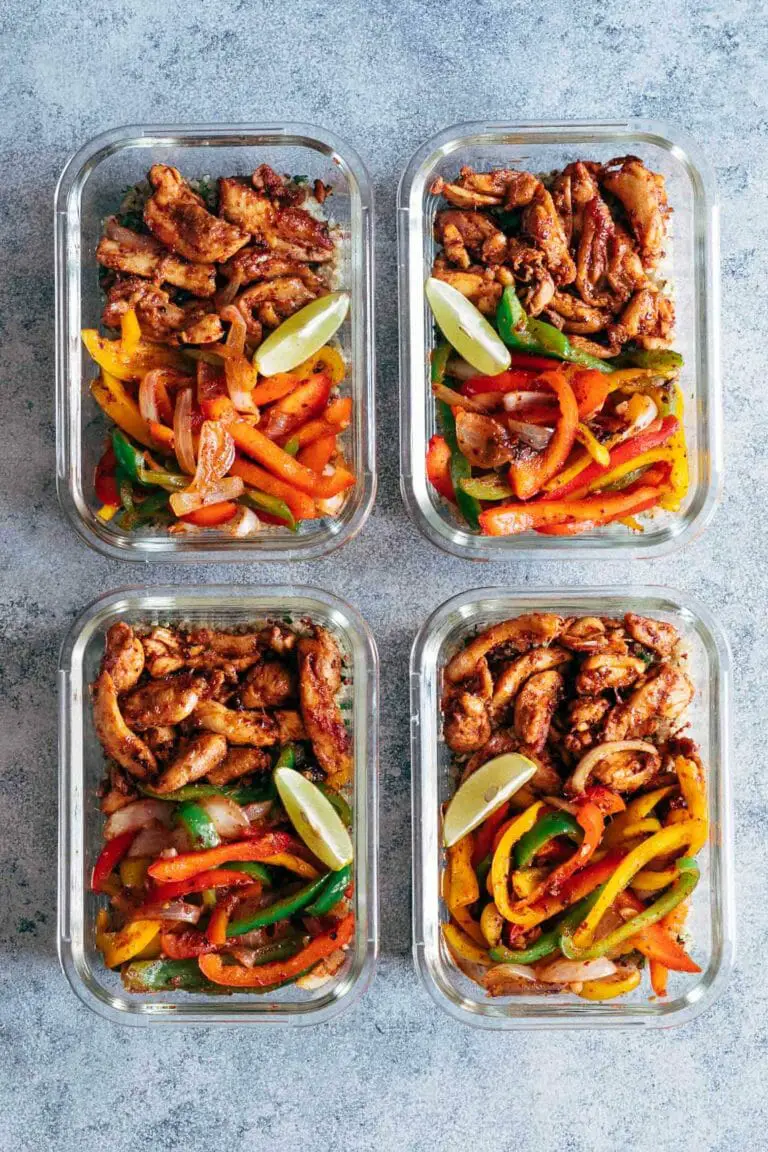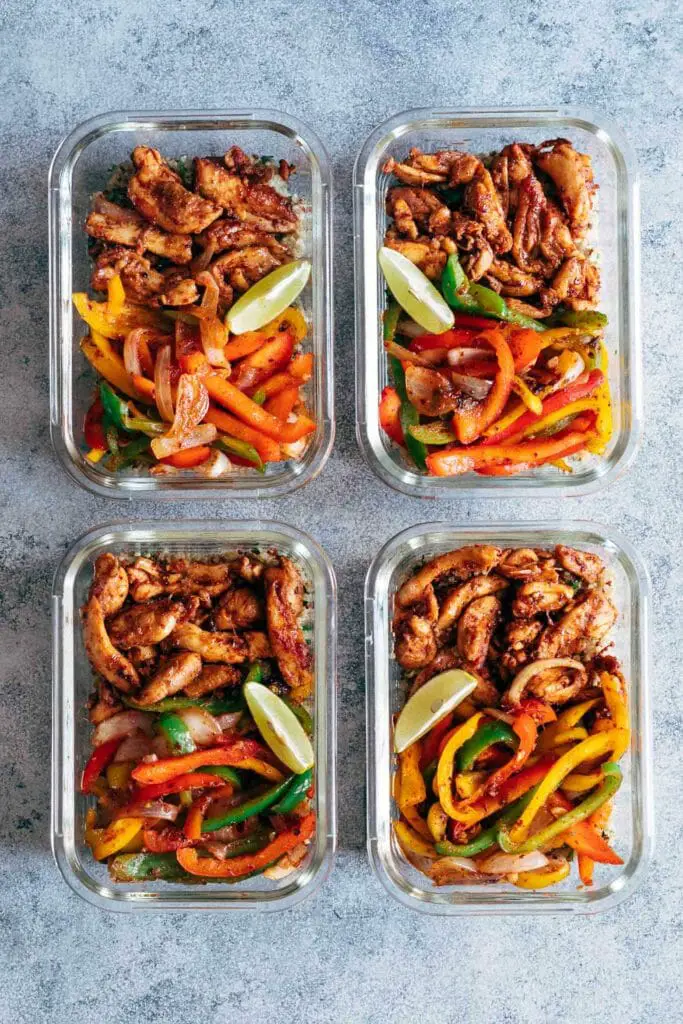 More Healthy Recipes