Are you on diet and you can't eat junk food? Removing junk food from your life doesn't mean you have to sacrifice cheese crackers recipe appetizers.
Today, I'm going to share my favorite triangle cheese crackers recipe that you can easily make at home completely from scratch. These homemade cheese crackers are crunchy, cheesy, light, and mouth-watering.
Triangle shaped cheese crackers have a salty flavor that is really addictive. This cracker recipe has simple instructions and quick baking time.
They are healthy because I don't use preservatives or artificial flavors for making them. You can prepare cheese triangle crackers in any shape, but I made them in small triangle shapes.
Cheese Crackers Recipe Appetizers
Ingredients
1 and ½ cups all-purpose flour
2 cups cheddar cheese (finely shredded)
½ cup unsalted butter (softened)
¾ teaspoon salt
¼ teaspoon smoked paprika
¼ teaspoon cayenne pepper
Instructions
In the bowl of a food processor, mix flour, paprika, cayenne, and salt. Cover the ingredients and blend until uniformly blended. Add butter and shredded cheese and beat until a stiff dough form. Collect the dough together in a ball shape and tightly cover in a plastic wrap; allow it to cool for at least 30 minutes. But if you cool it for more than 30 minutes, before rolling it, let it sit at room temperature for 15 to 30 minutes.
Preheat the oven to 176 °C (350°F). Line two baking sheets with parchment paper.
Roll the dough to a flat 1/8-inch thickness between two sheets of lightly floured waxed paper or on a lightly floured surface. Cut the crackers into attractive shapes by using a pizza cutter, or use a small cookie cutter and a ruler to cut square shapes about 1 inch in size. Using a thin spatula, softly move cut shapes to baking sheets. To keep the triangle cheddar crackers from puffing too much in the center, use the tip of a skewer or a chopstick to make a tiny hole in the middle of each cracker.
Bake for about 12 to 14 minutes or until the bottoms begin to brown. Allow homemade cheese crackers to cool for 5 minutes on the baking sheets, and then move to a wire rack to cool wholly.
You can store the cheese crackers recipe appetizers in an airtight container for up to 1 week.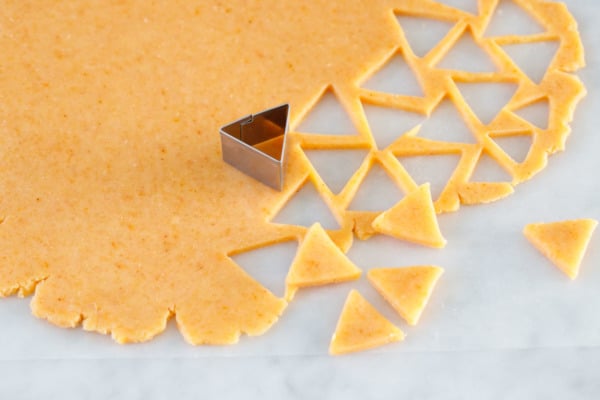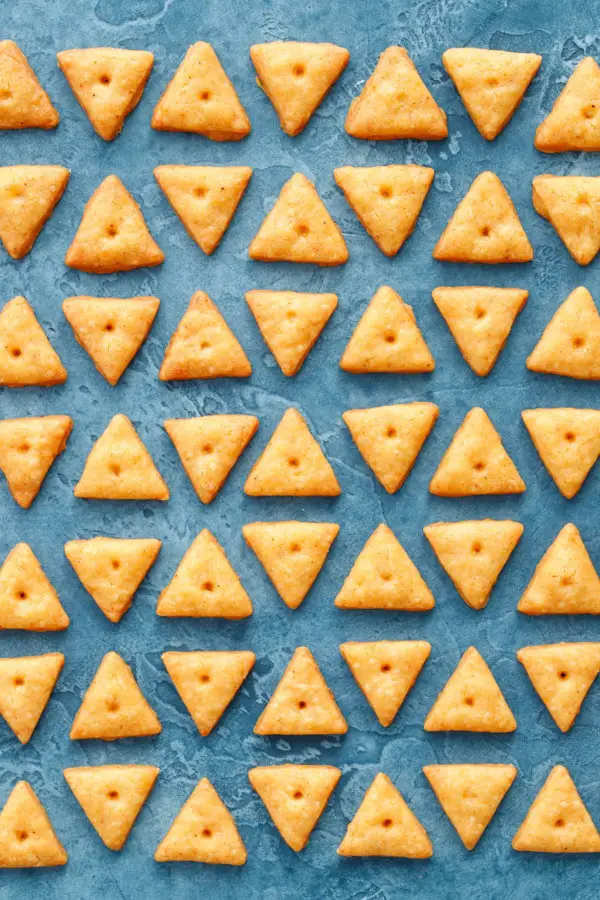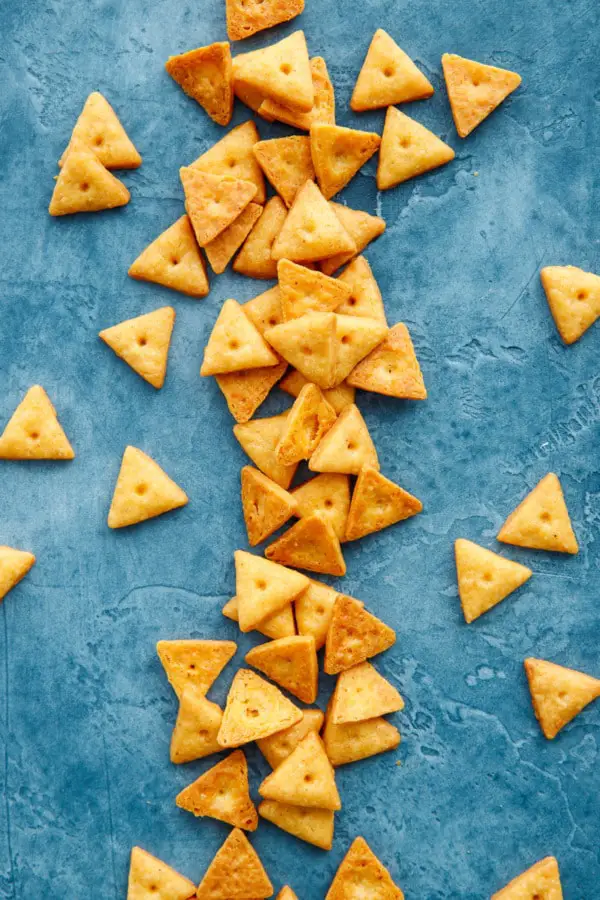 More Healthy Recipes