This authentic thai red curry shrimp recipe is the craziest delicious recipe ever!
It is infused with vegetables, most aromatic coconut milk, red curry paste, chicken broth, and rice is infused with star anise and herbs for even more flavor.
When authentic thai shrimp curry with coconut milk is tossed with shrimp and served with rice, it makes an easy and family-friendly dinner. 
Authentic Thai Red Curry Shrimp Recipe
Ingredients
1 pound medium shrimp thawed and peeled

1 cup chicken broth

3 tablespoons Thai red curry paste

½ medium onion chopped

1 can full-fat coconut milk

3 cloves garlic, minced

½ red bell pepper chopped

½ tablespoon fish sauce

½ tablespoon olive oil

1 small handful of fresh cilantro chopped

Lime juice to taste

1 small handful of fresh basil chopped

Salt & pepper to taste

Scallions chopped to taste
Instructions
Add oil and onion to a soup pot over medium heat. Sauté the onion for about 5 minutes, add curry paste and garlic and cook for 30 seconds.
Stir in fish sauce and chicken broth. Allow the

authentic thai coconut curry shrimp

sauce to boil and cook for a few minutes, then slow down the heat and stir in the coconut milk.
Add red pepper and shrimp and allow the creamy

thai red curry with shrimp

to lightly simmer for 5 minutes or until the shrimp are cooked throughout.
Add lime juice, salt, pepper to taste as needed in

thai shrimp red curry

. Add basil, cilantro, and scallions before serving.
Serve authentic thai red curry shrimp recipe over rice and enjoy.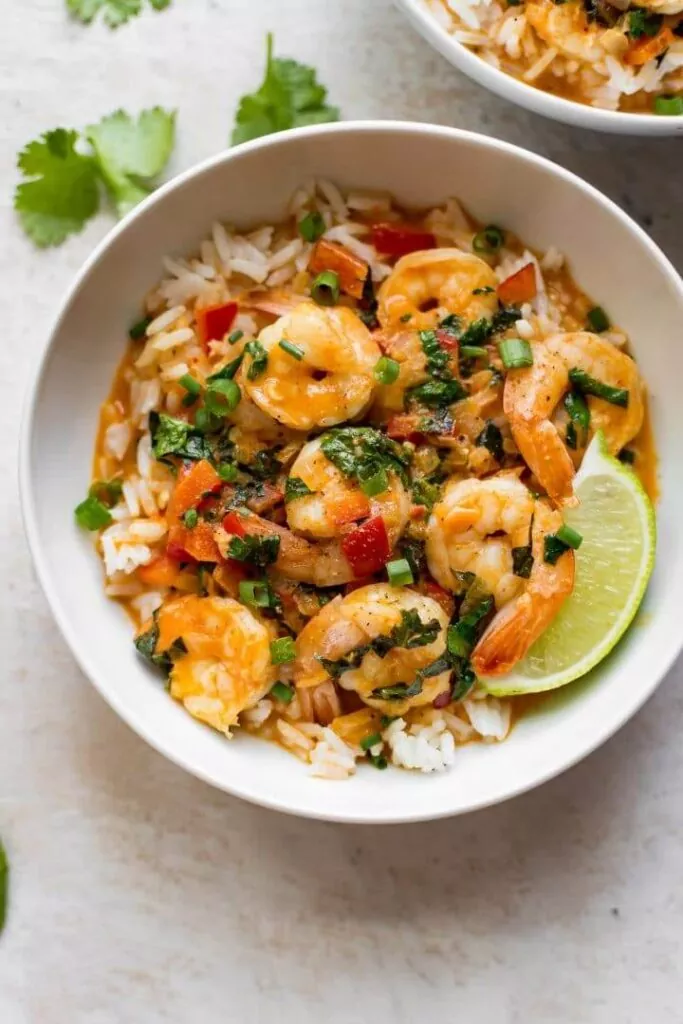 Check Other Amazing Recipes