Are you a vegan who is always looking for healthy and delectable recipes to try? Then, look no further than vegan oat flour muffins.
They are a delicious baked breakfast or snack idea that is loaded with nutrients and can be customized to fit any flavor preference.
They are extremely moist and fluffy. Made with the simplest ingredients, they take only a few minutes to make.
Today I will share my go-to recipe for gluten free vegan muffins and some tips and variations to try out. So, let's dive in.
Perks Of Using Oat Flour In Muffins
Oat flour is an excellent substitute for traditional flour for various reasons. First, it is gluten-free, making it an incredible choice for folks with gluten sensitivities or celiac disease.
Plus, it is bursting with fiber, which can aid in regulating blood sugar levels and keeping you feeling full for a long time.
Oats are also a great source of iron, protein, and magnesium, making them a nutrient-rich option for baked items.
Vegan Oat Flour Muffins Recipe
To make the yummiest oat flour muffins (no banana), you will require the following things:
Ingredients
2 ½ cups oat flour
1 tsp baking powder
¼ tsp ground nutmeg
1 tsp ground cinnamon
1 cup brown sugar
1 ½ cups bananas, mashed
½ cup almond milk
1 tsp vanilla extract
½ cup rolled oats
Instructions
Preheat the oven to 350 degrees Fahrenheit and prepare a muffin pan well for nonstick.
Whisk together baking powder, spices, and oat flour in a small bowl. Mix the mashed bananas and brown sugar in a large bowl until the batter is smooth and free of lumps.
Stir in the oil, almond milk, and vanilla essence until combined. Add the dry ingredients to the wet ingredients and mix until combined.
Fold in the oats and any other ingredients you want. Pour the batter into the prepared muffin pan, filling each cup about 3/4 full.
Bake the oat flour muffins no eggs for 35-40 minutes or until a wooden skewer comes out clean. Allow them to cool before serving.
Tips For Baking The Best Banana Oat Muffins (Vegan Gluten Free)
To make oat flour, blend rolled oats in a blender or food processor until they reach a flour-like texture.
Ensure not to overmix the mixture, as this can manifest in tough muffins.
Add a few extra tablespoons of sugar or maple syrup to the mixture to make your muffins a bit sweeter.
You can use pumpkin puree or mashed bananas if you don't have applesauce.
Experiment with diverse add-ins to discover your favorite flavor combinations.
For gluten-free muffins, ensure to utilize certified gluten-free oat flour.
Variations Of Vegan Oat Flour Muffins
One of the nicest things about the easy oat flour muffins is their versatility. Here are a couple of variations to try out:
Blueberry Muffins: Fold in one cup of frozen or fresh blueberries before baking.
Chocolate Chip Muffins: Fold in ½ cup of vegan chocolate chips into the mixture before pouring it into the muffin cup.
Carrot Cake Muffins: Add one cup of grated carrots, ½ cup of raisins, and 1 teaspoon of cinnamon before baking.
Lemon Poppy Seeds Muffins: Incorporate the zest of one lemon and 1 tablespoon of poppy seeds into the mixture before mixing.
Storing And Freezing Gluten Free Vegan Banana Muffins
Once your vegan oat flour muffins have cooled thoroughly, store them in an airtight box at room temperature for up to three days. If you wish to keep them fresh for a long time, store them in the fridge for up to seven days or in the freezer for up to three months.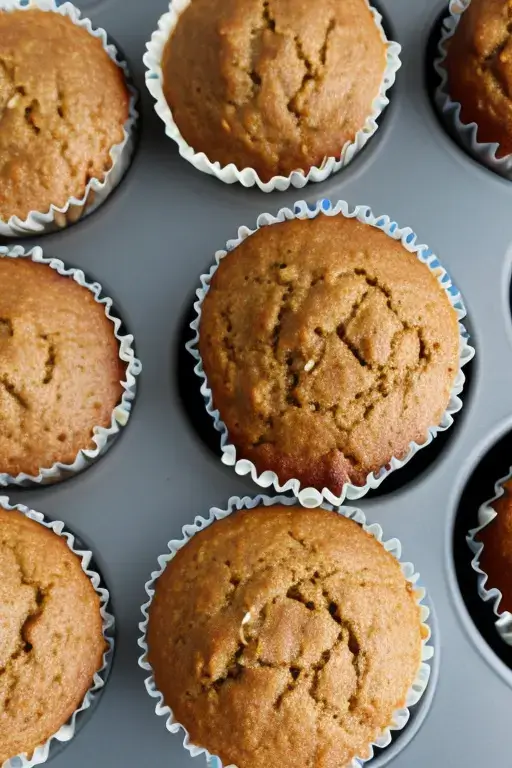 Frequently Asked Questions
1. Can I Use A Different Sort Of Flour In This Recipe?
While oat flour works perfectly in this recipe; however, you can experiment with using other kinds of flour, like all-purpose or almond flour, if you prefer.
2. Can I Use Honey Instead Of Maple Syrup?
Yes, you can add honey instead of maple syrup if you want.
3. Can I Make These Muffins Without Any Add-Ins?
Absolutely! These muffins are yummy on their own but feel free to add any extras you prefer.
Conclusion
Oat flour muffins with applesauce are a healthy option for a snack or breakfast. They are easier to make, customizable, and loaded with nutrients. Whether you prefer chocolate chips, carrot, blueberry, or any other flavor, there is an easy healthy banana muffins recipe out there for you to try.
So, why not give them a go and see for yourself how mouthwatering they can be? If you enjoyed this article, share this recipe with your loved ones!
More Healthy Breakfast Recipes