Are you on the lookout for a simple and healthy dessert option? Look no further than these 4-ingredient banana oatmeal cookies! Not only are they mouthwatering, but they are also easy and quick to make.
With just oats, peanut butter, chocolate chips, and bananas, this no bake banana oatmeal cookies recipe is impeccable for folks with limited time or wanting to decrease their sugar consumption.
Besides, they are vegan-friendly and gluten-free, making them an incredible option for people with dietary limitations. Whether you are seeking a mid-day snack or a guilt-free dessert, these cookies will surely satisfy your sweet tooth.
In this blog, I will share everything you must know about baking these yummy cookies, including the recipe, variations, and much more. 
Health Benefits Of Banana Oatmeal Cookies
Before we dive into the recipe, let's discuss the health perks of the two primary ingredients: bananas and oatmeal. Bananas are an outstanding source of vitamin C, fiber, and potassium. Plus, they are low in calories and can aid in regulating digestion and blood sugar levels.
On the other hand, oatmeal is loaded with protein and fiber, making it an amazing option for individuals looking to maintain a healthy weight and lower the risk of cardiovascular disease. When united, oatmeal and bananas produce a nutritious and delightful snack that you can enjoy at any time of the day.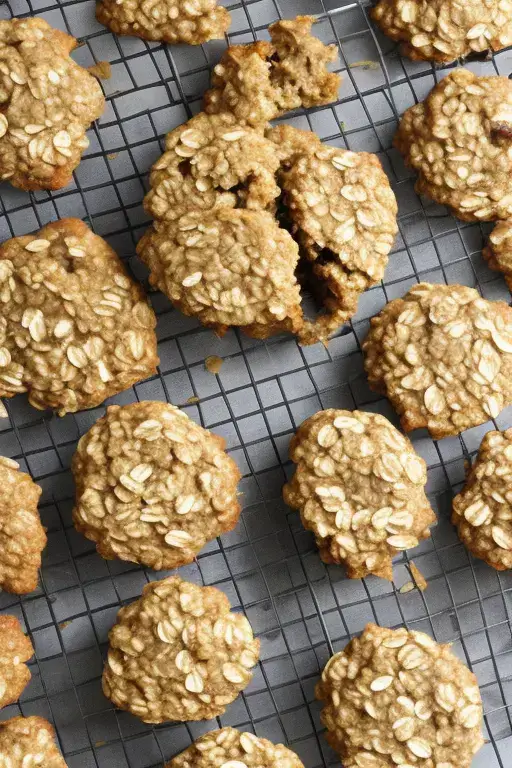 Recipe For 4-Ingredient Banana Oatmeal Cookies
Now that we know how healthy these 3 ingredient oatmeal cookies no banana are, let's get to the recipe! Here are the ingredients you'll need:
Ingredients
1 ½ cups old-fashioned oats
½ cup natural, creamy peanut butter
2 ripe bananas, mashed
⅔ cup chocolate chips
Instructions
Preheat the oven to 350°F and line a large baking tray with parchment paper. Set aside.
Take a large mixing bowl and mash bananas with a fork until they are creamy and soft. Add the oats and peanut butter to the bowl and stir until all the ingredients are wholly combined and thick dough forms.
Now, fold in chocolate chips using a large spoon or a rubber spatula until they are equally distributed in the dough.
Drop equally-sized banana oatmeal breakfast cookies onto the prepared baking tray with a small cookie scoop. Use your hands or spatula's back to flatten the cookies to your desired thickness.
Bake them for 15 minutes or until the edges are set, and the color is golden brown. Ensure not to overbake them, as they will keep cooking as they cool.
Bring them out of the oven and permit them to cool on the baking tray for 5 minutes before shifting them to wire rack to cool wholly. Serve and enjoy.
Variations Of 3 Ingredient Peanut Butter Banana Oatmeal Cookies
One of the best things about the 4-ingredient banana oatmeal cookies recipe is that you can effortlessly customize it to suit your taste inclinations. Here are some variations you can try:
Substitute the peanut butter with almond butter or another nut butter.
Add one tablespoon of pumpkin spice or cinnamon for added flavor.
Use dried cranberries or raisins instead of chocolate chips.
Add one tablespoon of honey or maple syrup for additional sweetness.
Tips And Tricks For Making The Perfect Banana Oatmeal Cookies
To guarantee that your healthy banana oatmeal chocolate chip cookies turn out perfectly every time, here are a few tips to remember:
Use ripe bananas for maximum sweetness and taste.
Ensure your peanut butter is creamy and not very thick.
If the batter is extremely dry, add a tablespoon of milk or water to assist in binding the ingredients together.
If the batter is extremely wet, add a tablespoon of oats at a time until it reaches the preferred consistency.
Avoid overmixing the ingredients, as this can lead to tough cookies.
Serving Suggestions For Banana Oatmeal Cookies No Flour
The ridiculously healthy banana oatmeal cookies recipe is best for snacking on the go or as a dessert after a meal. They also make an excellent addition to lunchboxes or as a post-workout snack. Here are some serving suggestions:
Serve with a glass of almond milk or cold milk for a delectable and healthy snack.
Top with a spoonful of Greek yogurt and fresh berries for a nutritious breakfast option.
Crumble the oatmeal banana cookies over a bowl of vanilla ice cream for a palatable dessert.
Storage Instructions For 4-Ingredient Banana Oatmeal Cookies
You can store the peanut butter banana oatmeal cookies with flour in an airtight box at room temperature for up to three days.
For longer storage, store in the refrigerator for seven days or in the freezer for three months. To reheat, microwave them for a few seconds or bake them in the oven at 350°F for 5-10 minutes.
Frequently Asked Questions
Are These Cookies Gluten-Free?
Yes, as long as you utilize certified gluten-free oats.
Can I Use Steel-Cut Oats Instead Of Rolled Oats?
No, steel-cut oats are too hard and won't function effectively in this recipe.
Can I Use A Different Nut Butter Instead Of Peanut Butter?
Yes, any nut butter will work perfectly in this recipe.
Can I Skip The Chocolate Chips?
Yes, they are optional.
Conclusion
These 4-ingredient banana oatmeal cookies are a scrumptious and healthy snack that is impeccable for any time of the day. They are easier to make, customizable, and loaded with health benefits.
Whether you are seeking a post-workout snack or a sweet treat to satisfy your cravings, these banana oatmeal chocolate chip cookies 3 ingredients will surely hit the spot. So go ahead, give them a try!
See More Cookie Recipes