I absolutely adore cooking and I'm constantly seeking out fresh, exciting recipes to experiment with. Weeknights can be a bit hectic, so I'm all about fast and effortless recipes that don't require a ton of preparation or ingredients.
That's why I'm thrilled to share my delectable 5 ingredient orange chicken recipe with you! Not only is it an absolute breeze to whip up, but it's also jam-packed with mouthwatering flavors that are sure to tantalize your taste buds.
5 Ingredient Orange Chicken Recipe
Ingredients
1 pound boneless skinless chicken thighs, trimmed and cut into small 1-inch pieces
2 tbsp orange zest
1/4 cup fresh orange juice
1/2 cup organic teriyaki sauce
1 tsp fresh ginger, grated
1 tbsp sesame oil
2 tbsp cornstarch
Steamed broccoli and rice or quinoa, for serving
Scallions, sliced, for garnish
Instructions
First, grab a zip-top bag and toss in some chicken thighs and cornstarch. Give it a good shake until the chicken is evenly coated.
Now, mix teriyaki sauce, orange zest, orange juice, and grated ginger in a small bowl.
Heat up sesame oil in a large skillet, add the chicken and cook it until it's browned and cooked through.
Now, pour in the teriyaki sauce mixture and stir it all together until the sauce thickens and coats the chicken.
Serve it over steamed broccoli and rice or quinoa and garnish it with some sliced scallions.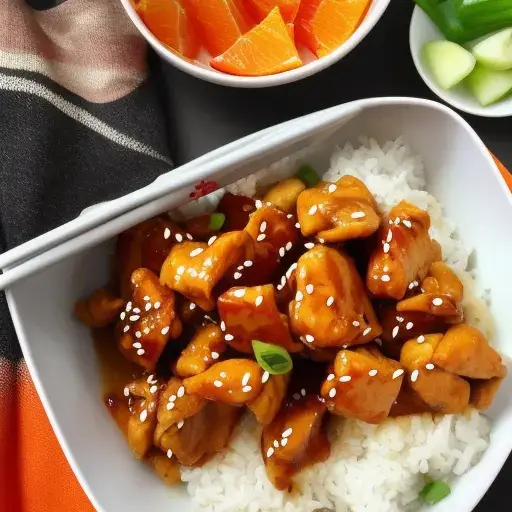 Tips For Enhancing The Flavor Of Orange Chicken Breast Recipe
Although the orange chicken recipe with orange marmalade is already tasty as-is, I've got some tips that can make your dish a crowd-pleaser that will have everyone asking for seconds!
Begin by marinating your chicken in orange juice mixture for a few hours. This will aid the flavors in penetrating the chicken and making it much more flavorful.
Add minced garlic and ginger for an extra burst of flavor.
As a finishing touch, sprinkle some sesame seeds over the top for a satisfying crunch.
Believe me, these tips are sure to transform your recipe from average to extraordinary in a snap!
Serving Suggestions
This 3 ingredient orange chicken recipe is super versatile, which means you can serve it over rice or noodles, depending on your mood.
If you are looking to boost the health quotient of your meal, you can throw in some steamed veggies like broccoli or snap peas into the mix. It'll not only boost the flavor but also make your meal much healthier.
If you're feeling fancy, you can garnish it with some sliced scallions or cilantro.
Variations Of The 5 Ingredient Orange Chicken Recipe
One of the best things about this healthy orange chicken with marmalade is that it is extremely easy to customize. Here are a few variations to try:
If you are craving a vegetarian option, replace the chicken with some mouth-watering shrimp or tofu.
If you want to add a touch of paradise to your meal, add some refreshing pineapple juice instead of plain orange juice. Trust me, it's a tropical twist you won't regret!
If you are a health-conscious, throw in some colorful veggies like bell peppers or carrots to give your meal an extra boost of nutrition and flavor.
Frequently Asked Questions
1. Can I Utilize Chicken Thighs Instead Of Chicken Breasts?
You can surely use chicken thighs instead of chicken breasts in this easy crockpot orange chicken 3 ingredients recipe. They will work very effectively.
2. Can I Use Bottled Orange Juice Instead Of Fresh Juice?
If you're in a hurry or can't get your hands on some fresh oranges, don't worry! Bottled orange juice can work just as well and still taste delicious. Of course, nothing beats the amazing flavor of freshly squeezed juice, but in a pinch, bottled juice is definitely worth a try.
3. Can I Make This Recipe In A Slow Cooker?
Yes! All you need to do is toss in all the ingredients into your slow cooker and let it work its magic for 4 to 6 hours on low heat. You'll have a delicious meal ready to enjoy without any fuss.
Conclusion
If you're a fan of quick and delicious dinners, this fabulous 5 ingredient orange chicken recipe is an absolute must-try. It's super simple to whip up, and the flavor is out of this world.
Your taste buds will be dancing with delight after just one bite. Your entire family and friends will be blown away by this crowd-pleaser. So, what are you waiting for? Give it a go and get hooked on this amazing dish!
More Healthy Dinner Recipes