Are you browsing the net to know how to make stuffed pasta shells with sausage and cottage cheese?
These pizza stuffed shells with cottage cheese are oversized pasta shells that are loaded with cheese, sausages, and pepperoni.
They are called pizza cottage cheese stuffed shells because they taste like pizza.
There are lots of stuffed shells recipes on the internet, but this pizza stuffed shells recipe is very simple and easy, so newbies can also give it a try.
The best thing about the sausage and cheese stuffed shells is that they can be prepared ahead and frozen for later use.
If you are thinking about inviting your friends or relatives to dinner, then you should definitely serve these delicious pizza stuffed shells with sausage and cream cheese because they are a crowd-pleaser.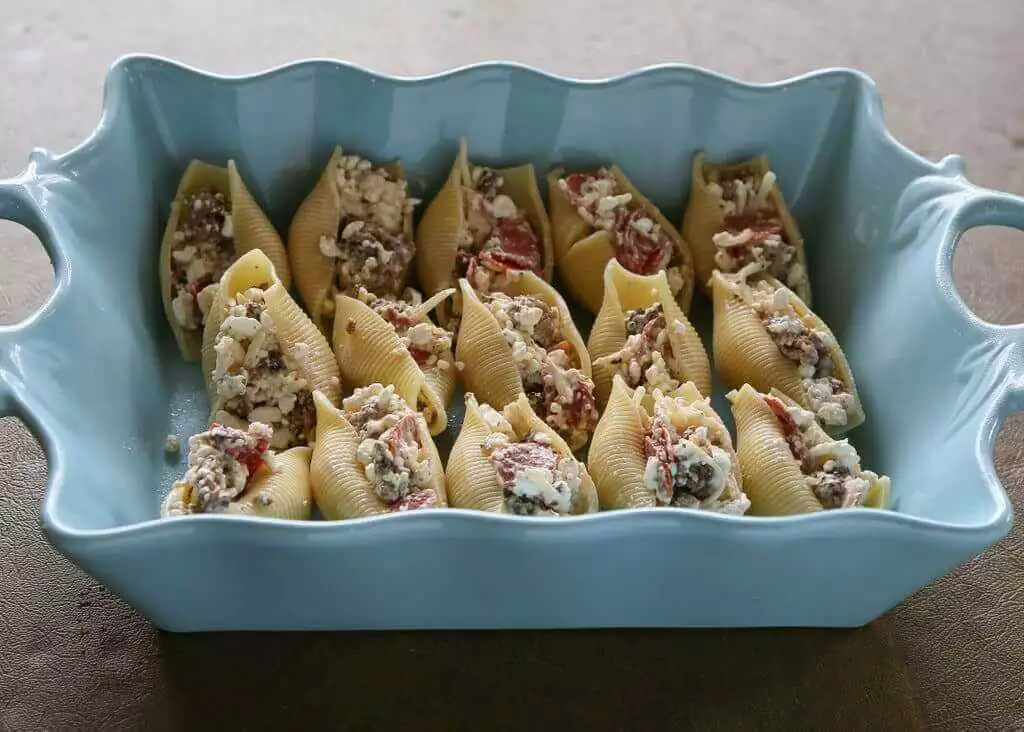 How To Make Stuffed Pasta Shells?
Ingredients
½ cup chopped pepperoni
½ pound sausage
1 jar (26-oz) spaghetti sauce
16 oz cottage cheese
½ teaspoon minced garlic
25 jumbo shells
1 teaspoon Italian seasonings
2 cups shredded mozzarella cheese, divided
Grated Parmesan for topping, optional
Instructions
Preheat oven to 190°C (375°F). Spray a 9×13 inch pan with cooking spray lightly.
Cook jumbo sausage stuffed pasta shells according to package instructions, then drain and cool.
Brown the sausage in pan, while the pasta is cooking. Stir in garlic for the last minute of cooking and then drain sausage.
Mix sausage, cottage cheese, 1 cup mozzarella cheese, pepperoni, and Italian seasoning in a medium bowl.
Stuff pasta shells with cheese mixture and put in the prepared baking pan. Top with remaining mozzarella cheese and spaghetti sauce.
Bake how to make stuffed pasta shells in preheated oven for 25 to 30 minutes until bubbly. Sprinkle Parmesan on top of stuffed shells cottage cheese. Serve and enjoy.
More Healthy Recipes