Easy Kung Pao chicken recipe Chinese style will be the best food you have ever prepared at home.
With crispy and tender finger-licking chicken chunks, peanuts, and green onion swimming in the enchanting spicy kung pao sauce recipe exploding with salty, sweet and spicy flavor, this authentic kung pao chicken recipe with rice is low in calories and hard to pass up.
It is supremely healthy and much better than takeout style kung pao chicken.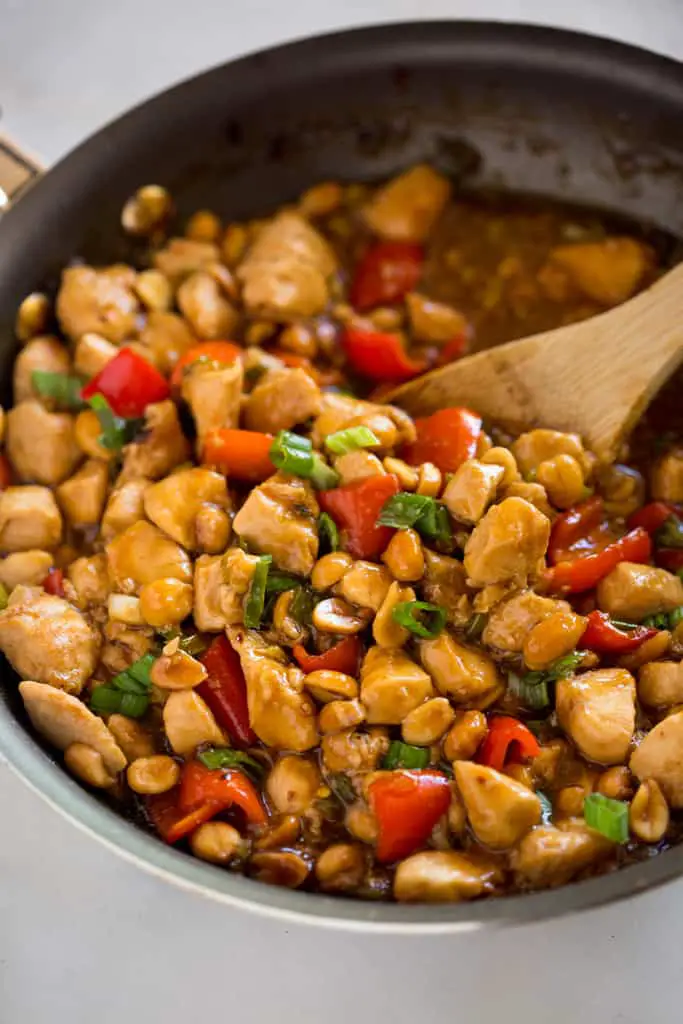 Best Kung Pao Chicken Recipe Healthy

Kung Pao Chicken Ingredients
Chicken
800g skinless/boneless chicken breast cut into 1-inch cubes
1 tablespoon light soy sauce
1 tablespoon Shaoxing wine
1 teaspoon corn flour/corn starch
2 teaspoons baking soda
Sauce
½ cup low sodium chicken stock/broth
2 tablespoons Chinese black vinegar/ balsamic vinegar
2 teaspoon dark soy sauce
2 tablespoons sugar
5 tablespoons light soy sauce
2 tablespoons Chinese Shaoxing wine
2 teaspoon hoisin sauce
1 teaspoon corn flour
Stir Fry
4 tablespoons cooking oil
1 tablespoons ginger
1 ½ tablespoon garlic paste
8-10 dried chilies diced into ½ inch pieces
1 tablespoon Sichuan peppercorns, toasted and ground
½ cup roasted peanuts
4 green onion cut into 1-inch pieces
½ green capsicum, seeded and diced
½ green capsicum, seeded and diced
2 teaspoons sesame oil (optional)
Instructions
Mix all ingredients for the chicken in a bowl, cover-up, and marinate for 10 minutes.
Stir in sauce ingredients together until sugar dissolves and set aside.
Heat a large skillet over high heat. Add 2 tablespoons of oil and then add the marinated chicken. Fry the chicken for 3 to 4 minutes until browned and stir occasionally. Take out from heat and put aside.
Add remaining oil into the same skillet. Add ginger, diced capsicums, garlic, and Sichuan peppercorn and stir fry for about 1 minute.
Give the sauce a mix and transfer it into the pan and boil it while stirring frequently.
When it begins to become thick, add chicken and stir in all of the ingredients through the sauce until chicken is evenly covered and the sauce thickened.
Put in peanuts, green onions, and sesame oil. Mix well and continue cooking for more 2 minutes.
Serve easy kung pao chicken recipe warm with rice and enjoy.
More Healthy Recipes