The best chicken pot pie recipe in the world is super-delicious, simple, and overloaded with flavor.
Old fashioned chicken pot pie recipe with heavy cream filling and flaky pie crust with chicken breast is the best recipe ever invented.
I use frozen and fresh vegetables, refrigerated pie dough, and fresh and dried herbs for making this mouth-watering classic chicken pot pie.
You can serve this rich and creamy chicken pot pie recipe in the dinner, and it is confirmed that your guests would love it.
The Best Chicken Pot Pie Recipe In The World
Ingredients
1 lb. boneless chicken breast (cut into small bite-size pieces)

1 cup sliced carrots

½ cup frozen peas

¼ cup all-purpose flour

½ cup chopped yellow onion

½ cup sliced celery

4 tablespoon unsalted butter

½ teaspoon dried thyme leaves

1 ¼ teaspoons salt

¼ teaspoon ground black pepper

½ teaspoon garlic powder

2 unbaked pie crusts  

1 cup chicken broth

½ cup heavy cream

2 tablespoons minced fresh flat-leaf parsley
Instructions
Preheat oven to 218

°

C 

(425

°

F

). There should be an oven rack on the bottom rack of the oven.

Melt butter on a large skillet over medium heat. Add chicken, celery, onion, garlic powder, pepper, thyme leaves, carrots, and salt in it. Cook for 8-10 minutes or until the chicken is thoroughly cooked. Stir repeatedly.

Then add flour and mix well until no dry flour left over. Slowly pour the cream and then the chicken broth. Cook for 3 to 4 minutes or until it becomes thick and bubbly, but stir frequently. 

Remove from heat; add flat-leaf parsley and peas in the filling. Allow it to cool for 15-30 minutes before filling the pie.

Take a 9-inch pie plate and fit one pie crust into it. Put the cooled filling into the pie crust and then, top with the second crust; seal the edges of the pie crust and cut 3-4 slits in the top.

Put the filled easy chicken pot pie with pie crust on the baking sheet and bake for 30 minutes.

Cool The best chicken pot pie recipe in the world for 15- 30 minutes. Slice and serve.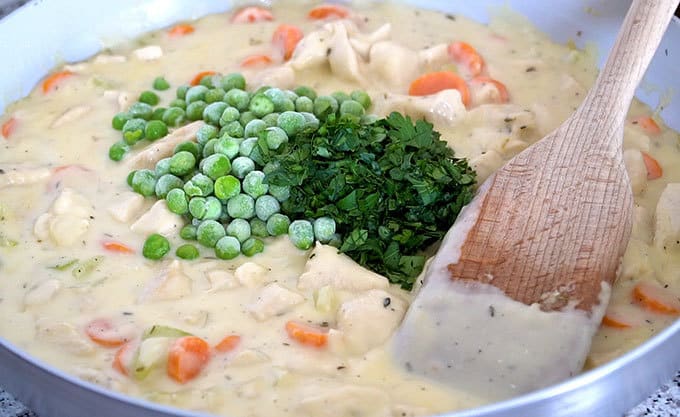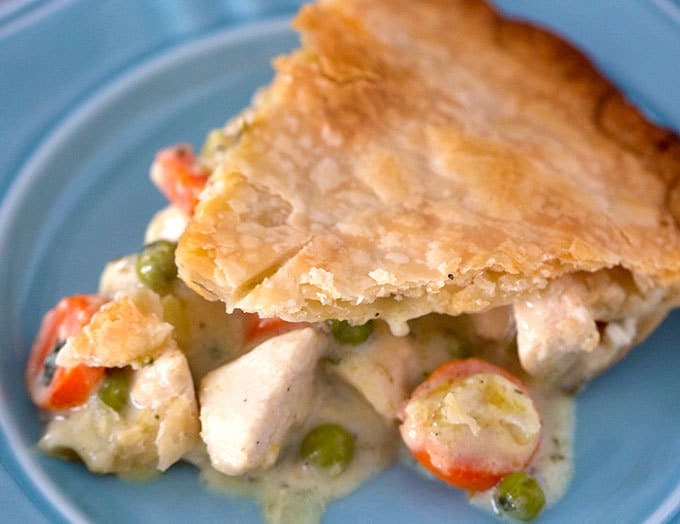 More Healthy Recipes