If you have been to an event or celebration, you might have come across a half sheet cake. These delightful treats are essential in the baking realm, providing a versatile and convenient option for any occasion.
In today's blog, I'll educate you about "what is a half sheet cake, 1/2 sheet cake size feeds how many, what is half sheet cake size, how many servings in a half sheet cake, and much more. So, let's satisfy your sweet tooth and unearth the secrets of this delicious dessert!
What Is A Sheet Cake?
This cake is baked in a flat, rectangular sheet cake pan. Sheet cakes are also called "slab cakes". You can serve them with frosting on top or layer them with a filling and then frost them.
What Is A Half Sheet Cake?
A half sheet cake is a rectangular cake that measures around 11 x 15 inches in size. It is called a half sheet cake because it is half of a full sheet cake size, which usually measures approximately 18 x 24 inches.
They are a popular choice for weddings, birthdays, parties, and other special events owing to their generous size and ability to serve many people.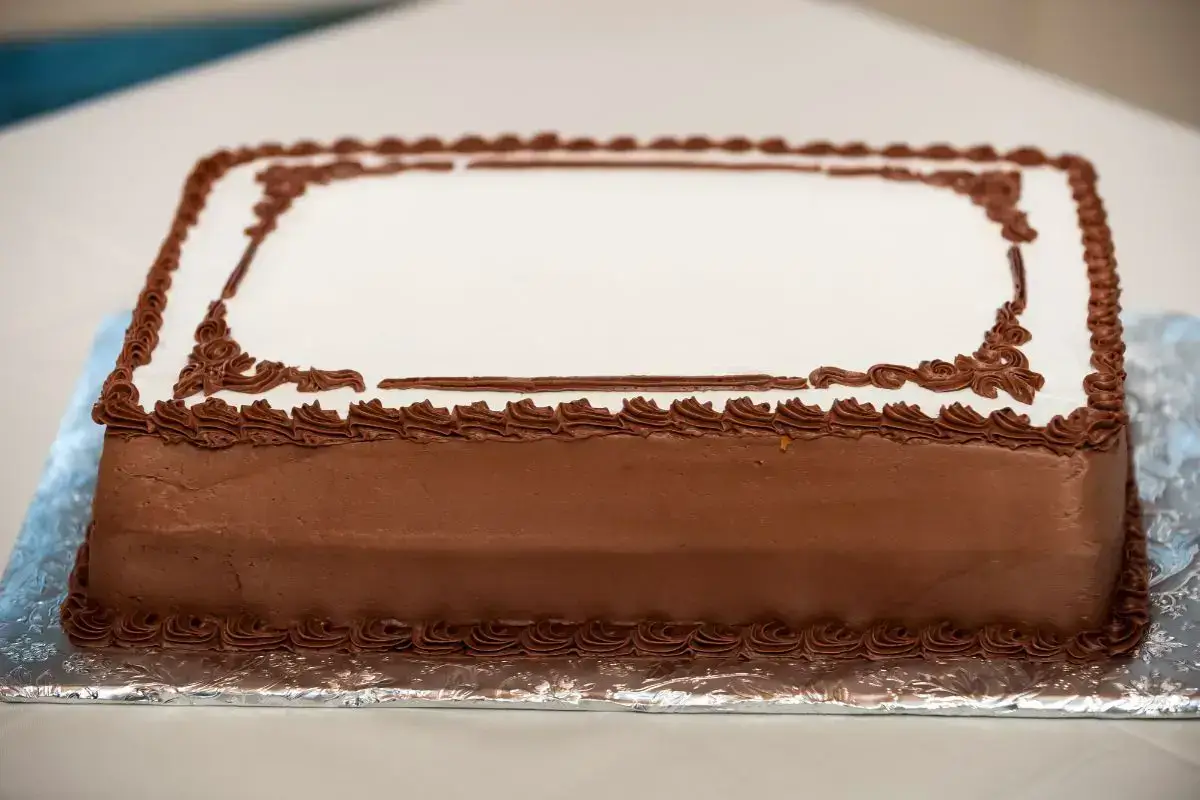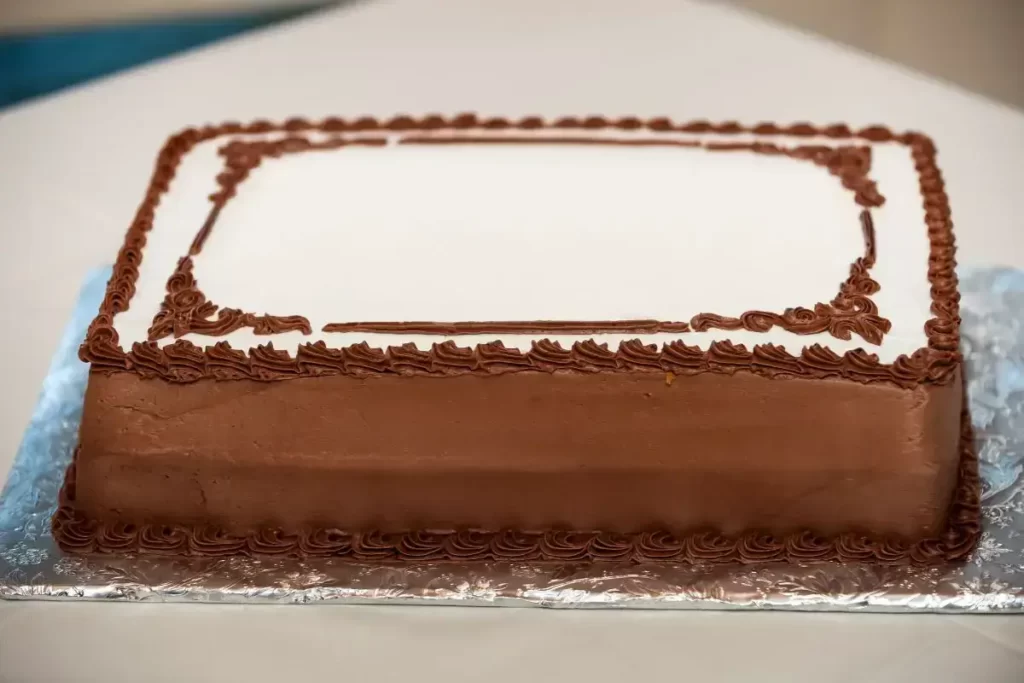 What Are The Advantages Of Half Sheet Cake?
They are a crowd pleaser, impeccable for gatherings with a number of individuals, as they are easier to cut and portion out. The flat crown gives you ample space to decorate and customize with words.
They are extremely easy to make, making them one of the most budget-friendly cake options for larger gatherings. Another advantage of a half sheet cake is its versatility. You can customize it with many frostings, flavors, and fillings.
Half Sheet Cake Dimensions And Pan Sizes
Depending on your cake pan's manufacturer, the size of half sheet cake can differ slightly. They usually measure 18" x 12". Half sheet cakes sold at most grocery stores and bakeries measure 15" x 11" with a height of 2 inches.
The pans are manufactured of stainless steel or aluminum, guaranteeing even distribution of heat and promoting a perfectly baked cake. Ensure to select a pan with straight sides to accomplish an even shape and inhibit the cake from bulging.
How you choose to decorate the cake also plays a critical role in determining how big your final cake will be. Some people like to trim off the cake's edges, making it smaller. Others prefer to apply a thick frosting layer, making the cake slightly bigger.
How Many People Can A Half Sheet Cake Serve?
How many people does a half sheet cake feed depends on the size of the cake's slices and your half sheet pan's size. The average half sheet cake can feed approximately 48 to 58 people.
That's why they are used for larger gatherings. Though they can serve 58 individuals, some cakes can be smaller. A sheet cake slice can range from 1" x 2", 2" × 2" to 2" × 3", so they will feed 36, 54, or 108 people, respectively.
How To Decorate A Half Sheet Cake?
Decorating a half sheet cake can be a fun and creative process. Here are some tips to help you achieve a stunning result:
Start with a smooth and level cake surface by trimming the top if necessary.
Utilize a crumb coat of frosting to seal the cake and prevent crumbs from appearing in the final layer.
Consider using a piping bag and various tips to create decorative borders, patterns, or lettering.
Experiment with various types of frosting, like buttercream, fondant, or ganache, to achieve the desired texture and taste.
Enhance your design with edible decorations like sprinkles, fresh fruit, chocolate shavings, or edible flowers.
How To Make A Half Sheet Cake: Recipe
Now you know what is a half sheet cake, what is the size of a half sheet cake, how big is half sheet cake, and how many people half sheet cake serves, let's explore how to make a half sheet cake at home:
Half Sheet Cake
Ingredients
1 cup water
1 cup butter
3 tbsp unsweetened cocoa powder
2 cups all-purpose flour
2 cups granulated sugar
1 tsp baking soda
1/2 tsp salt
1/2 cup sour cream
2 large eggs
1 tsp vanilla extract
For The Frosting
6 tbsp milk
3 tbsp unsweetened cocoa powder
1/2 cup butter
3 3/4 cups powdered sugar
Instructions
Prepare a 12×18 inch sheet pan with a non-stick baking spray. Preheat your oven to 176°C or 350°F.
Combine baking powder, flour, and salt in a medium-sized bowl and set aside.
Add the oil, butter, and sugar to a large bowl and beat until fluffy and light in color for about 5 minutes. Avoid skimping on the creaming time.
Now, incorporate eggs two at a time and mix until combined after each addition. Scrape down your bowl's sides as required, ensuring all ingredients are well integrated.
Add half of the dry ingredients to the mixture and mix until well combined. Gradually add vanilla extract and milk and mix until combined.
Add the remaining dry ingredients and mix until combined and smooth. Scrape down your bowl's sides to ensure all ingredients are incorporated. Avoid over-mixing the mixture.
Spread the mixture evenly into the prepared pan and bake for 15 minutes. Remove it from the oven and allow it to cool for 15 minutes.
Beat shortening and butter together until smooth to make the frosting. Gradually add half of the sugar and salt and mix until smooth.
 Add water or milk, corn syrup, and vanilla extract and mix until smooth. Now, add the remaining sugar and mix.
Then, add extra milk or water as required to acquire the right texture of frosting. Color the frosting in your favorite shade.
Spread the frosting uniformly onto the cooled half sheet cake and then top with sprinkles. Cover it properly and store it at room temperature. Try to eat it within 3-4 days.
How To Store A Half Sheet Cake?
It is essential to store your half sheet cake properly to maintain its freshness and taste. Here are a few tips to follow:
Cover the cake tightly in plastic wrap or put it in an airtight box to prevent it from drying out if the cake is not frosted.
Cover the cake or individual slices with plastic wrap if the cake is frosted, ensuring the frosting is protected.
Store it at room temperature for 2-3 days or refrigerate it for a longer shelf life, typically up to 7 days.
Before serving refrigerated cake, let it come to room temperature for about 30 minutes to enhance the flavor and texture.
How Many Cake Mixes For A Sheet Cake?
Each cake mix makes about 4 to 5 cups of cake mixture. Moreover, the quantities displayed are for baking a one-layer sheet cake.
If you are making a full sheet pan cake, you will require two boxes of cake mix to make one layer. You will need 1 box of cake mix to make one layer of half sheet cake.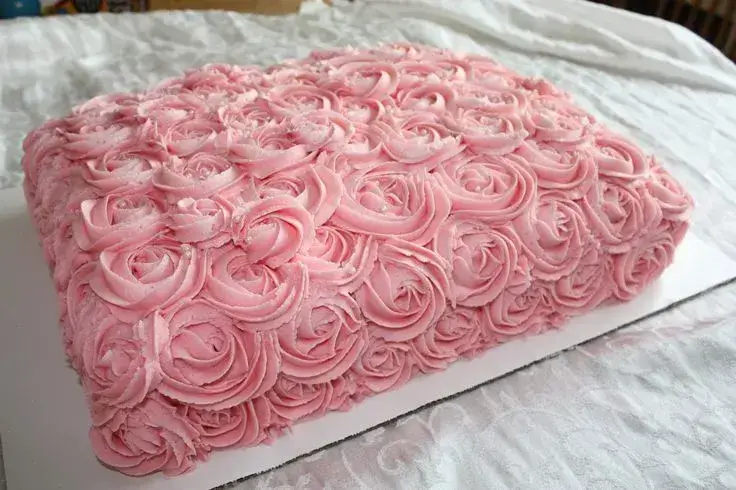 Frequently Asked Questions
How Many People Will A 1/2 Sheet Cake Serve?
A half sheet cake pan is 11X15 inches, feeding 18 to 40 individuals. This size is ideal for an office or wedding anniversary party. A full sheet cake pan is 18X24 inches, feeding 48 to 96 people. This size is perfect for grand celebrations.
What Size Cake Do I Need For 30 People?
A 9-inch round 2-layer cake feeds 20 to 25 people, and a 3-layer cake serves 30 to 35 people. 10-inch 2-layer cake feeds 25 to 30 people, and a 3-layer cake feeds 40 to 45 people. 12-inch round 2-layer cake feeds 35 to 40 people. There are 50 to 55 servings in a half sheet cake 12-inch round 3-layer cake.
How Do You Cut A Half Sheet Cake?
Vertically cut your half sheet cake in half using a knife with a thin, long blade. Then, cut the halves in half vertically, leaving you with four long sections. Beginning from any end of the sheet cake, press the knife's blade into the cake and pull it away. Continue this until you have five slices from one of your quarters. Use the blade's flat side and slide it beneath your slice's bottom to serve. Repeat for the remaining quarters.
What Is The Difference Between A Quarter Sheet Cake And A Half-Sheet Cake?
A half sheet is 12 X 18 and a quarter sheet is 9 X 13, and there are sizes in between. Use a rectangular sheet cake pan to obtain the perfect-shaped sheet cake. Rectangular pans or sheet cake pans are available in several sizes and depths.
Conclusion
So, what is a half sheet cake? They are a delightful indulgence that brings joy to any celebration. Their bigger size, ease of serving, and versatility make them a preferred choice for events and parties.
Now, you are equipped with the knowledge of what size is a half sheet cake, how many servings is a half sheet cake, and how many cake mixes for a half sheet cake; you are fully prepared to embark on your baking adventure.
So, gather your ingredients, unleash your creativity, and savor the satisfaction of creating a delicious masterpiece that will delight your guests.
You May Also Like To Check Out: