Are you a nachos, spicy beef, and tater lover just like me? Then, these finger-licking cheesy tater tot nachos with ground beef are for you.
Built on the bed of crunchy tater tots, these enticing and tasty ground beef totchos recipe are topped with spicy beef, creamy cheese, and sweet corn, making them a perfect weeknight meal that everyone would love.
If you have never made nachos from tater tots earlier, this is the easiest and best tater tot beef nachos recipe for you to get started.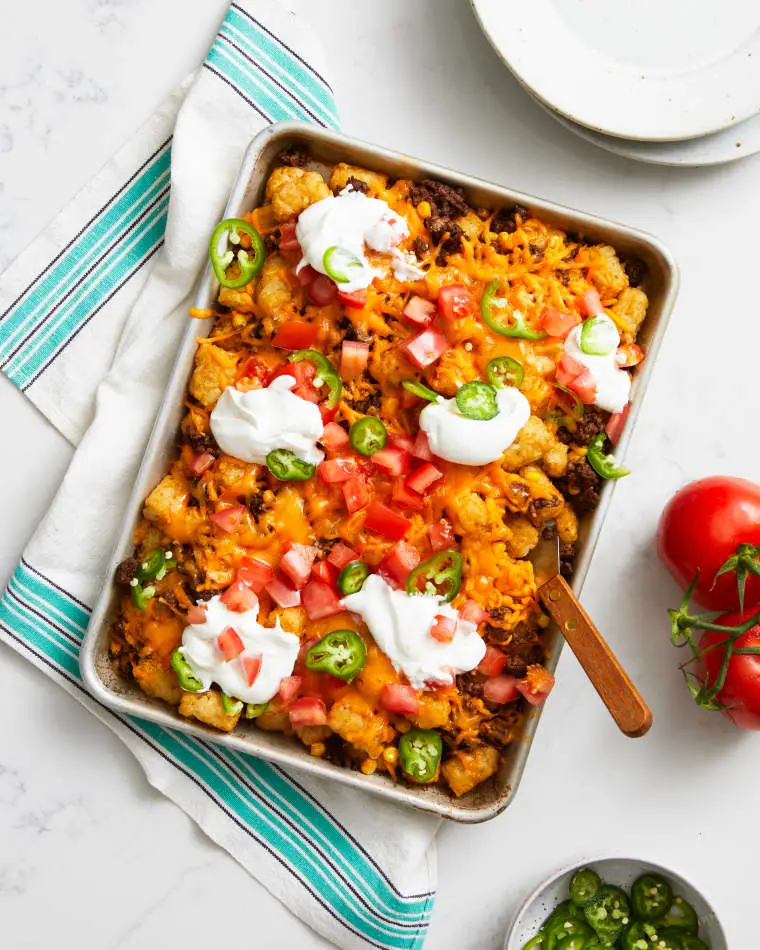 Tater Tot Nachos With Ground Beef Recipe
Ingredients
1 bag (32 ounces) frozen tator tots
2 cups cheddar cheese, shredded
1 pound lean ground beef
1 tablespoon olive oil
1 cup frozen corn kernels
1 tablespoon taco seasoning
 For Garnish
Chopped tomatoes
Jalapeños
Sour cream
Instruction
Heat the oven to 204 ºC (400ºF) and place a stand in the center of the oven.
Grate 2 cups cheddar cheese and chop up some tomatoes for garnish.
Set the tater tots on a baking sheet and bake for 30 minutes.
Now, take a frying pan and heat 1 tablespoon olive oil over medium-high heat for 1 to 2 minutes. Put in 1 pound lean ground beef, season with one tablespoon taco seasoning, and cook properly until browned.
Now, mix 1 cup corn kernels and take off from the heat.  Place corn and beef over the tots, and then sprinkle with some cheese.
Continue baking for about 10 minutes or until the cheese is bubbly and melted. Top with sliced jalapeños, sour cream, and chopped tomatoes.
Spicy tater tot nachos with ground beef are ready to serve.
More Healthy Favorites