Are you a waffle pastry lover? Then, you are going to think that my puff pastry waffles are the best recipe ever invented.
My Puff pastry waffles recipe is fast, light, and easy to make. This breakfast puff pastry will be soft, buttery, and flaky. It can be used in breakfast as well as dessert.
The secret for the delicate and fantastic folding of pastry is grated frozen butter, the colder the butter, the better the folding.
Ingredients For Making Puff Pastry Waffles

For The Puffles:
For The Peaches Cream:
½ large peach sliced
1 teaspoon vanilla
1 teaspoon powdered sugar
Warm maple syrup for serving
1 cup heavy whipping cream
Instructions
Roll out puff pastry smoothly and spread it in an even rectangle by using a rolling pin.
Cut a circle using a cereal sized bowl.
Preheat puff pastry waffle iron. On waffle iron, place one circle of puff pastry. Close the lid and allow it to cook for 8 minutes.
To make whipped cream, put sugar, cream, and vanilla together in a mixer.
Put the waffle puffs on a plate, top with whipped cream, maple syrup, and fresh peaches.
Now, breakfast puff pastry waffles are ready to serve. Enjoy!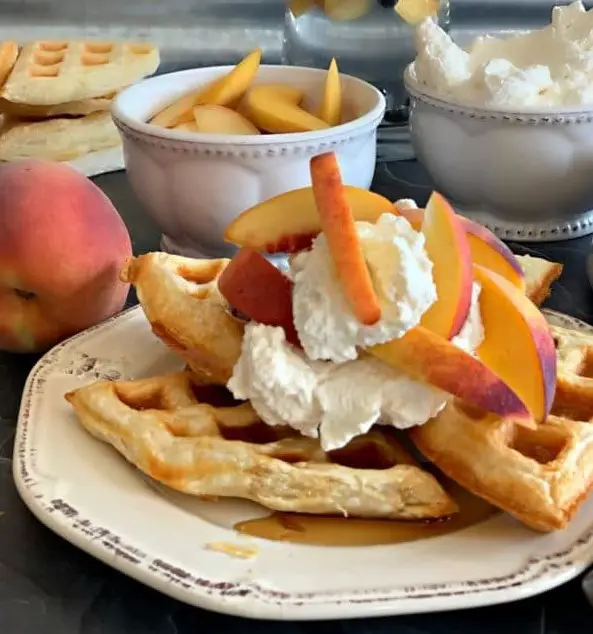 See Some Other Amazing Recipes