Do you have fresh peppers and tomatoes? Then, you would love to make the chunky salsa recipe for canning, either mild or hot.
It is ultra-delicious and cheaper to make. It is a great approach to using fresh ingredients and preserving high-quality food at home.
You can make a small batch of this award winning salsa recipe for canning to eat fresh or make a large batch to enjoy for a long time.
THIS POST MAY CONTAIN AFFILIATE SALES LINKS. PLEASE SEE MY FULL DISCLAIMER POLICY FOR DETAILS.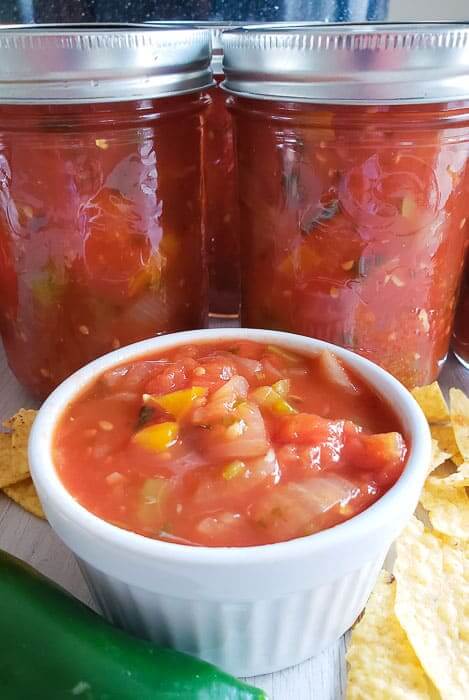 Chunky Salsa Recipe For Canning
Ingredients
9 cups peeled and chopped tomatoes
2 and 1/2 cups chopped green bell peppers
2 and 1/2 cups chopped white onion
1 cup white vinegar
1 (12-ounce) can of tomato paste
4 medium chopped jalapenos
8 large chopped cloves of garlic
6 teaspoons canning salt
Instructions
First, remove the skin from the tomatoes. To do this, make an X at the tomatoes' bottom and then put them in boiling water for one minute. Then, remove them from the water and put them into a bowl of iced water. The skin will come off instantly.
Put all the ingredients of the Mexican salsa recipe in a large bowl and simmer for 20 to 30 minutes until thickened and cooked.
Pour the cooked canned salsa recipe with fresh tomatoes into clean, sterile jars, leaving half-inch headspace. Wipe the edges of the jars with a wet, clean cloth and then put lids on the crown.
Bring a large pan full of water to a boil. The pan should be tall enough to have the water cover the jars by two inches. The jars will displace some of the water as you will add them.
Add them to the water bath and cover them with a lid. Process them for half an hour and then remove them.
Allow the jars for the chunky salsa recipe for canning to sit for 24 hours. The small batch salsa recipe for canning without peeling tomatoes will stay good in the jars for 18 months.
More Healthy Recipes