Do you want to learn how to cook cucumber noodles Keto? Are you looking for a cucumber noodles salad recipe that is gluten-free, light, and healthy at the same time?
Look no further because this cucumber noodles recipe is a perfect no cook low carb side dish. You can serve this cucumber noodles salad with peanut sauce.
The keto peanut sauce is very clean and fresh. This is a great spiralized cucumber salad recipe that can be made in summer and spring. I'm sure that these yummy and healthy noodles will bring joy to your dining table and everyone will love to eat them happily.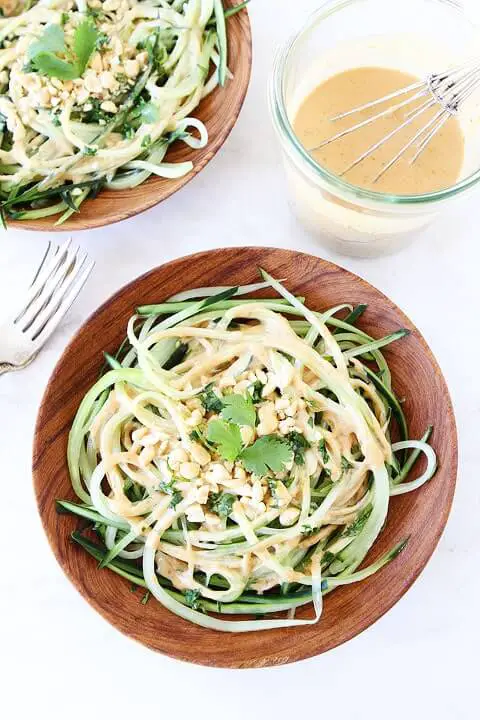 How To Cook Cucumber Noodles?
Ingredients
For The Peanut Sauce
2/3 cup creamy natural peanut butter
2 ½ tablespoons soy sauce or gluten-free tamari
1 teaspoon fresh lime juice
1 teaspoon finely grated ginger
2 tablespoons rice vinegar
2 teaspoons honey or agave
1/3 cup warm water
2 teaspoons sesame oil
1 minced garlic clove
Dash of red pepper to taste
For Cucumber Noodles
2 large seedless cucumbers
1/3 cup chopped peanuts for garnish
1/3 cup chopped fresh cilantro for garnish
Instructions
Keto Peanut Sauce Preparation
Mix peanut butter, tamari, agave, rice vinegar, lime juice, and sesame oil in a large bowl. Whip until smooth. Add pepper flakes, ginger, and garlic, and whip in warm water until sauce is smooth.
Cucumber Noodles Preparation
Use a julienne peeler or a spiralizer to slice the cucumber to make noodles 1/8-inch in thickness.
Place the cucumber noodles in a bowl. Sprinkle peanut sauce over it and toss lightly.
Top how to cook cucumber noodles with peanut and cilantro. Serve and enjoy.
More Healthy Recipes