There are so many fun activities that you can do with children – from hiking and swimming to teaching them to count and read.
But one of the most fun and often stressful for parents is baking. Children love to bake, and there are so many child-friendly, fun baking recipes like this easy banana muffins recipe! 
Baking is delightful, but there are also many benefits of baking with children.
5 Benefits Of Baking With Children
These are the benefits of baking for preschoolers. 
1. Coordination
As adults, we might not think about it too much, but there is a lot of coordination that goes into baking. 
Kneading the dough, making dough balls, using a rolling pin – all of these take a level of coordination that many young children are still just learning.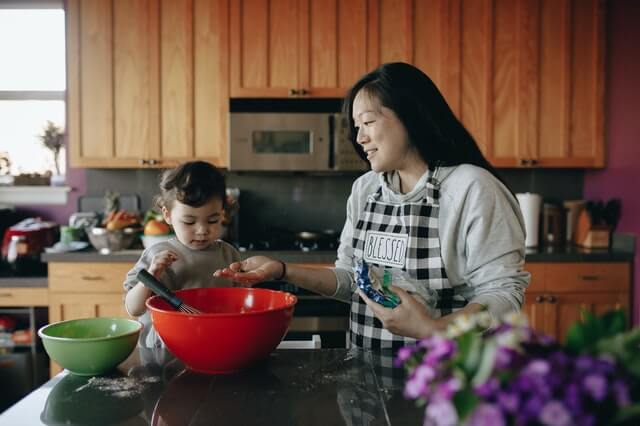 2. Following Directions
Reading comprehension is something that comes with time, but you can help the process when you let your child follow the instructions on a recipe. 
If they are too young, they will follow what you say – which is an equally important skill. 
Listening to instructions and understanding what it means and what the purpose is are all essential parts of the learning process. 
A lot of learning about following directions can come from baking and cooking in general since you and your child will be both following them to the T. 
3. Strengthening 
Strengthening of muscles is one of the biggest benefits of baking with children.
The muscles we use to type, hold pencils, paint, and other things don't happen overnight – but you can help your children strengthen theirs. 
Simple things like pinching salt, adding sprinkles, and kneading the dough increase the strength of the hands and fingers. 
Over time your child might move from using two hands to using one hand, and you might see an improvement in their writing too!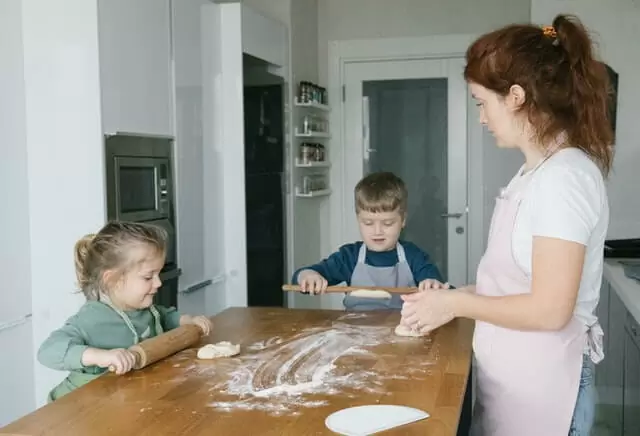 4. Time
Time can be a tricky concept to grasp, but when you are baking cakes and bread, there are many timers to consider. 
For example, you might need to let the dough rise for several hours when baking bread. And, of course, the baking itself can take time too.
Use a timer on your phone or an egg to help make time into something a bit more 'real.' 
Within the time learning, there is also the skill of patience – waiting for the process to be done. 
5. Maths
Learning maths is also one of the amazing benefits of baking with children. 
If a recipe calls for 3 cups of flour, three tablespoons of milk, and so on, you can let your child count and add the right amount. 
While there is, of course, some risk, there might be a little too much or not enough added – in the end; they will be learning to count in an enjoyable way. 
Aside from that, when you double up a recipe as they get older, you can do some fun sums. Like doubling up the grams of sugar, you are going to need. 
There is a surprising amount of skill involved in making even the most simple of baked goods, and kids have so much fun they won't ever realize just how much they are learning!
Here are some excellent baked goods that you can try out with your child: Cakes and Cookies.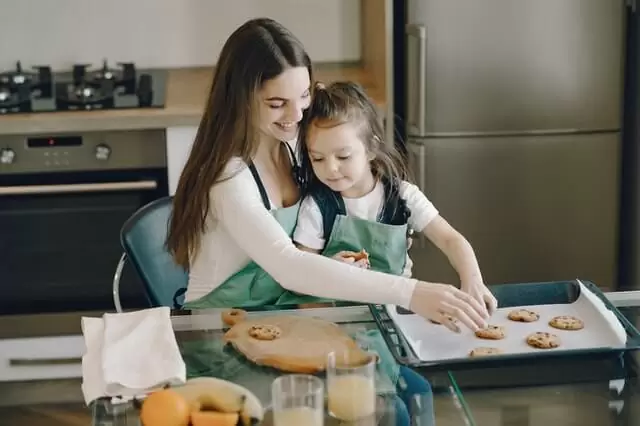 Conclusion
So, these are the major benefits of baking with children. If you have never tried baking with your little ones, do it now and have fun together.