One of the most popular cuisines in the world is Italian food.
People over pasta enjoy parmigiana, and if it's got mozzarella on it, you can bet most people are salivating! Italian food – the traditional kind – provides some of the best combinations of flavor in the world.
The pasta, bread, and meats – you can't get away from all of the delicious things.
When the freshest ingredients are used for things like oven baked meatballs, you can't get away from the flavors involved!
If you're not Italian, you might just be able to appreciate the flavors involved, and I've got some of the best benefits of Italian foods below – so you can get started!
6 Benefits Of Italian Foods
1. Italian Breads
The bread is some of the most delicious you'll ever taste. Carbs on carbs, right?
The freshest bread cookies are always available whenever you go to an Italian restaurant.
Focaccia bread and garlic bread are some of the best in the world, and the taste is just amazing.
2. Olive Oil
You can dip soft Italian bread in olive oil or melted butter and garlic.
You can even use it to mop up the sauce from your main dish, too.
You might be aware of the benefits of using olive oil in your cooking when you make an Italian food diet, and it's on the list for that reason.
Olive oil tastes lovely, and it's one of the richest flavors you can add to your Italian dishes.
So much of the olive oil in the stores isn't real unless you ask an Italian and they can tell you which one to choose!
3. Italian Wine
Really, I don't need to expand any more on that one, but the wines alone from all areas of Italy are just stunning.
There are so many broad flavors to consider, and you can bet that the red wines will complement things like oven baked meatballs and red meats.
4. The Culture
It's all in the culture. Whether you are heading out to an Italian restaurant or making Italian food at home, you never just come for the food.
You come for the culture, and so you want to recreate that.
You can really create a dining experience that makes you feel like you're sitting in a square in Rome, taking in the sights and eating the most delicious pizzas.
5. The Choice 
Having a choice is one of the most significant benefits of Italian foods.
The choice of dishes around for Italian foods is huge.
You can eat anything from pasta dishes to pizza dishes, fish with the right spices, and steaks with herbs.
There are huge options when it comes to your Italian meals, and it's not just the mains.
Bruschetta to start and a Tiramisu to finish are just some of the many delicious options.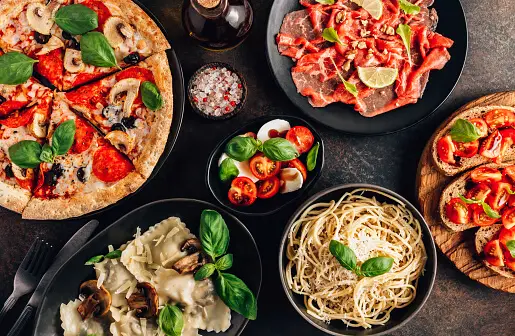 6. It's fresh
Italian food is good for the brain, body, and heart.
You're going to feel wonderful, and the food is some of the freshest around.
Fresh herbs, fresh veggies, and fresh meats are all the norm when choosing Italian food over other cuisines.
Conclusion
I hope you loved reading my article on "benefits of Italian foods." If you have never eaten Italian food, try it once, trust me, you won't regret it.