It's no secret that eating a healthy diet requires more effort than eating whatever you like.
Fast food and processed foods are there to help us save time, but with the consequence of generally being unhealthy.
So how can you make it easier on yourself to eat a heart healthy diet?
In this guide, I will share four ways to get organized with your food to make healthy eating a cinch.
4 Ways To Get Organized With Your Food For Eating A Healthy Diet
1. Meal Prep Will Change Your Life
Changing your habits is one of the most important success factors for losing weight and eating healthier.
And one of the best things you can do to adopt healthier habits is meal prep.
Meal prep can save you a lot of time, and ensure you have healthy, balanced meals ready to eat.
This avoids the temptation of picking up something ready-made and allows you to create healthier versions of your favorite foods.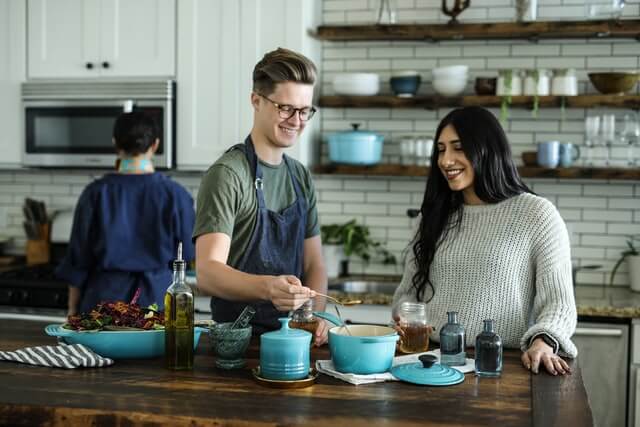 2. Make Use Of Your Slow Cooker
Slow cookers can save you time in the kitchen, but they can also help you enjoy simple heart healthy diet that's full of flavor.
Put your ingredients in the slow cooker in the morning, and by the evening, you'll have a tasty dish ready and waiting.
Get creative by using your slow cooker for more than just chili or stews – this BBQ chicken sandwich recipe here can also make a delicious meal to come home to.
Explore different types of recipes and get the most out of your slow cooker for eating a healthy diet.
3. Plan Meals And Be Strict With Your Grocery Shopping
Like meal prep, meal planning for healthy eating can save you a lot of time, and it can help you stick to healthier eating.
Meal planning for weight loss will make you write out the ingredients you need to create some balanced dishes and let you know what you'll be eating each day.
You'll need to be strict with your grocery shopping to make sure you don't stray from your vegetarian meal plan for weight loss.
If you can order your groceries online, this could save you some of the temptation that wandering the aisles can bring.
4. Have Some Go-To Quick And Healthy Recipes
A lot of people think making healthy recipes has to take an age in the kitchen.
But once you discover quick and simple recipes, you can change how you think about cooking and ditch your usual go-tos.
Try a range of healthy, quick meal ideas to see which ones you like, and the next time you're in a hurry, you'll have some ideal recipes to make in a pinch.
Conclusion
Eating a healthy diet comes naturally to some people, but for others, it takes a little more effort.
The more organized you are through prepping and planning, the more likely you are to see success.
In time, your organizing will become a habit so that it becomes a normal part of your routine, ensuring healthy eating for life.
Make a vegetarian meal plan for weight loss to get a handle on your healthy eating and see the difference it can make to you.