The shrimp Alfredo with cream cheese recipe is a fabulous weeknight dinner meal that is extremely flavorful and gets ready in less than 30 minutes. It is brought to its GREATEST with shrimp.
The delicious shrimp fettuccine alfredo with cream cheese demands little effort and is so creamy and luscious that your loved ones will fall in love with it. The pasta is covered in a creamy parmesan cheese sauce then crowned with juicy, appetizing shrimp.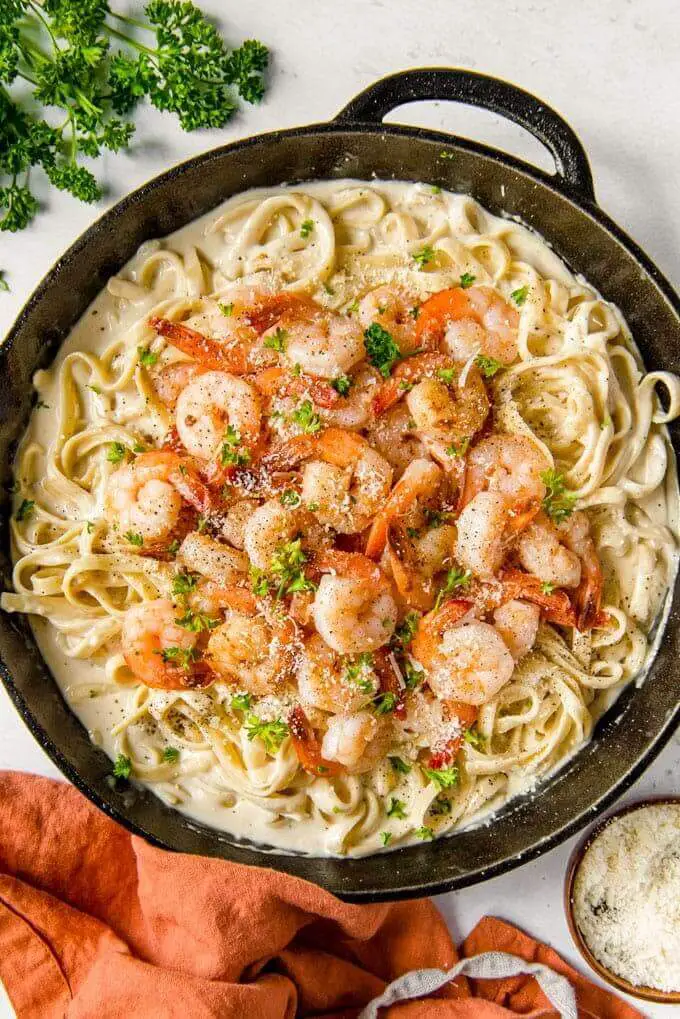 Healthy Shrimp Alfredo With Cream Cheese And Heavy Cream
Ingredients
1 pound shrimp, peeled and thawed
1 tbsp olive oil
16 oz. fettuccini noodles
½ cup butter
2 cups heavy whipping cream
4 oz. cream cheese
½ tsp minced garlic
1 tsp garlic powder
1 tsp Italian seasoning
¼ tsp pepper
¼ tsp salt
1 cup grated parmesan cheese
Instructions
Take a medium-sized skillet and place it over medium-high heat. Put shrimp and olive oil over the skillet and cook for 3 minutes or until they are cooked completely and opaque. Remove the shrimp from the skillet and set it aside.
Take a large pot and add water to it. Bring water to a boil, add the fettuccini, and cook until al dente. Drain the fettuccini.
In the meantime, make the creamy shrimp alfredo recipe sauce. Combine butter, whipping cream, and cream cheese and cook over medium heat. Whisk all the ingredients until melted thoroughly. Then, put garlic powder, minced garlic, Italian seasoning, pepper, and salt. Mix everything until smooth. Now, add parmesan cheese and permit it to simmer until it commences to thicken. Put shrimp cream cheese pasta and shrimp to the Alfredo sauce with cream cheese and mix to coat.
Garnish with parsley and serve this easy shrimp alfredo recipe.