Are you thinking about going vegan? Or are you holding a dinner party for people who are? If so, you may be wondering how you can possibly make a simple vegan chocolate cake recipe with almond milk.
After all, eggs and milk are common ingredients when making a cake, but both of these food products are cut out of a vegan diet.
Well, fear not, it is possible to make a vegan cake without those particular ingredients. In fact, there are all kinds of foods you can eat within a vegan diet, so it's not all salads and vegetable smoothies!
You will find a few of them on my website, including these delicious sweet potato fritters.
For dessert, you might also want to consider this easy almond flour cookie recipe. But if your heart is set on making a chocolate cake with almond milk, let's take a closer look.
THIS POST MAY CONTAIN AFFILIATE SALES LINKS. PLEASE SEE MY FULL DISCLAIMER POLICY FOR DETAILS.
What Is A Gluten Free Vegan Chocolate Cake Made Of?
A vegan almond flour chocolate cake is like a traditional cake, with no animal products used in the baking process. This means there is no milk, no eggs, and no butter.
Cow's milk can be swapped out for dairy-free alternatives, such as coconut milk, almond milk, or oat milk. These each have their own delicious flavors, so it's worth considering the type of cake you are making beforehand.
As you know, eggs are an integral part of a traditional cake mix, but these can be swapped out too.
You can replace a single egg with two tablespoons of ground flaxseed stirred with 3 tablespoons of water. Or you could use half a mashed-up banana or these other egg replacers.
There are alternatives to traditional butter products too. These include coconut butter and nut butter, and there will be other kinds of vegan butter at your local store.
If you're somebody who enjoys black forest chocolate cake, your mind can be put at ease as your local store will also sell vegan chocolate sponge mixes. You can also use dark chocolate, as this is the vegan-friendly alternative to milk chocolate.
And talking of chocolate, here's a vegan chocolate fudge cake recipe!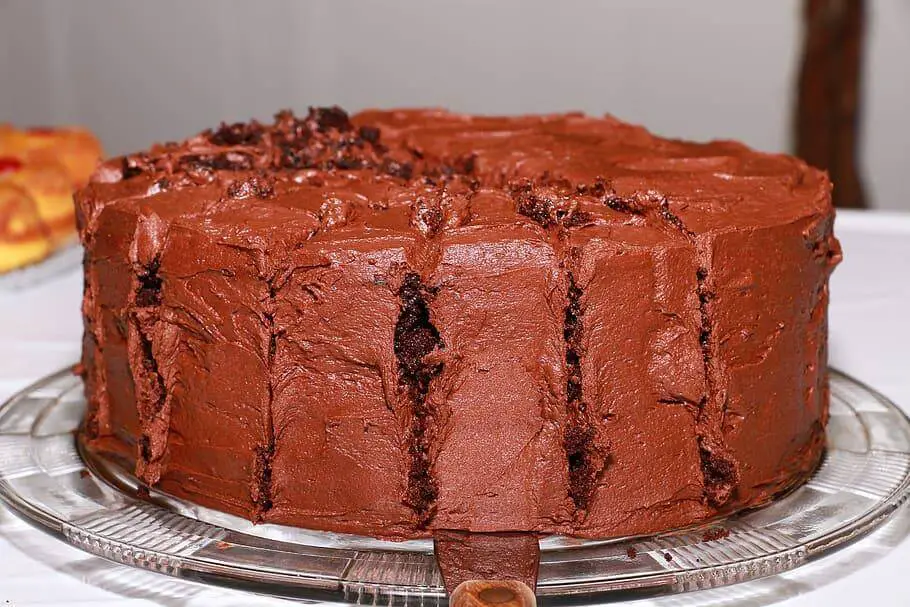 Simple Vegan Chocolate Cake Recipe With Almond Milk
Ingredients
For The Cake
1 cup of almond milk
1 tablespoon of apple cider vinegar
1/2 cup of melted coconut oil or canola oil
1 and 3/4 cups of granulated sugar
2 cups of flour
3/4 cup of cocoa powder
2 teaspoons baking powder
1 1/2 teaspoons baking soda
2/3 cup of applesauce
1 teaspoon salt
1 tablespoon of pure vanilla extract
1 cup of boiling water
For The Buttercream Frosting
1 cup of cocoa powder
1 1/2 cups of softened vegan butter
4 cups of powdered sugar
1/2 cup of unsweetened almond milk
2 teaspoons of pure vanilla extract
Instructions
Almond Milk Cake Recipe

Preheat your oven to 350 degrees F and then grease your cake pans.
Mix the almond milk and vinegar together, stir slightly, and then set it aside to curdle.
In a large bowl, add the cocoa powder, flour, sugar, salt, baking powder, and baking soda, and whisk them together well. Then add the milk/vinegar mixture and your oil, vanilla, and applesauce, and mix until they are all well combined.
Then pour the cup of boiling water over the mixture and mix until you have a cake batter. Don't worry if it is runny, as that is how it is meant to be.
Divide the batter between your two cake pans and bake with almond milk for 30 minutes. After this time (and if you're sure that the cake is ready), let them cool in the pan for 10 minutes before putting them on plates to finish cooling off.
Buttercream Frosting
Add cocoa powder to a large bowl and whisk well to remove any clumps.
Then add the vegan butter and mix together using a hand mixer until they are well combined.
Continue mixing after adding half of the almond milk and half of the powdered sugar. Mix well, and then add the vanilla extract and the rest of the sugar. Keep going until the mixture is fluffy and all the ingredients have been combined together.
If the frosting seems dry, add the remainder of the milk and include a little extra if needed. If it's too wet, add more sugar until it starts to thicken up.
When you think the frosting is ready, frost your simple vegan chocolate cake recipe with almond milk using a butter knife or an icing spatula. Finally, add any other toppings, such as dark chocolate sprinkles or any fruits that you like.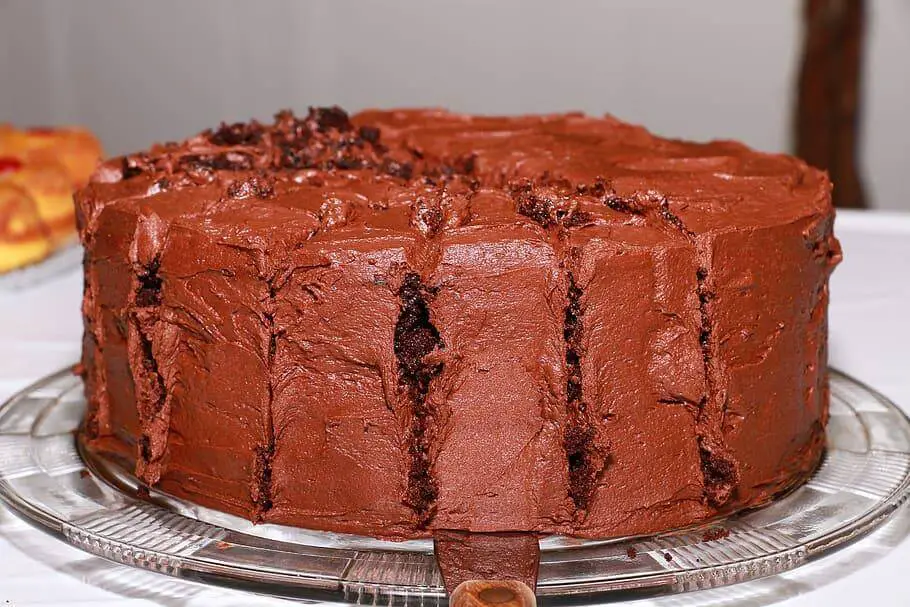 Check Other Amazing Recipes