Are you looking for an easy, vegan, gluten-free, and delicious snack? Look no further because today I'm going to share recipe for roasted chickpeas snack with you guys.
You can store these perfectly seasoned sugar free crunchy roasted chickpeas for 4-5 days at room temperature. They are dairy-free, healthy, and rich in fiber which means, they can help you lower cholesterol and blood sugar levels.
Crunchy roasted chickpeas recipe are easy to digest. They are high in protein, so after eating them, you will feel full and energized.
Easy Recipe For Roasted Chickpeas Snack
Ingredients
1 15 oz can chickpeas
¼ teaspoon onion powder
½ teaspoon garlic powder
¼ teaspoon black pepper, freshly ground
½ teaspoon salt
½ tsp grounded cumin
½ to 1 tablespoon olive oil
½ teaspoon smoked paprika
¼ teaspoon ground coriander
Instructions
Preheat oven to 205°C (400°F).
Take a baking sheet, spray it with non-stick spray, and set aside.
Wash and properly drain the chickpeas.
Take a small bowl and mix together onion powder, garlic powder, sea salt, pepper, paprika, and cumin.
Pour chickpeas into the prepared baking sheet and bake in preheated oven for about 15 minutes.
Remove them from the oven. Now, drizzle ½ tablespoon olive oil and spices over the chickpeas and toss well until evenly coated. (If needed, you can slowly add more olive oil for coating all spicy roasted chickpeas).
Bake at 205°C (400°F) for 10 minutes, and then mix.
Put tossed crispy roasted chickpeas to the oven again and bake them for about 5-10 minutes until they become crunchy and crispy.
Turn off the oven and open the door a little bit. Allow the recipe for roasted chickpeas snack to cool in the oven to attain maximum crispiness.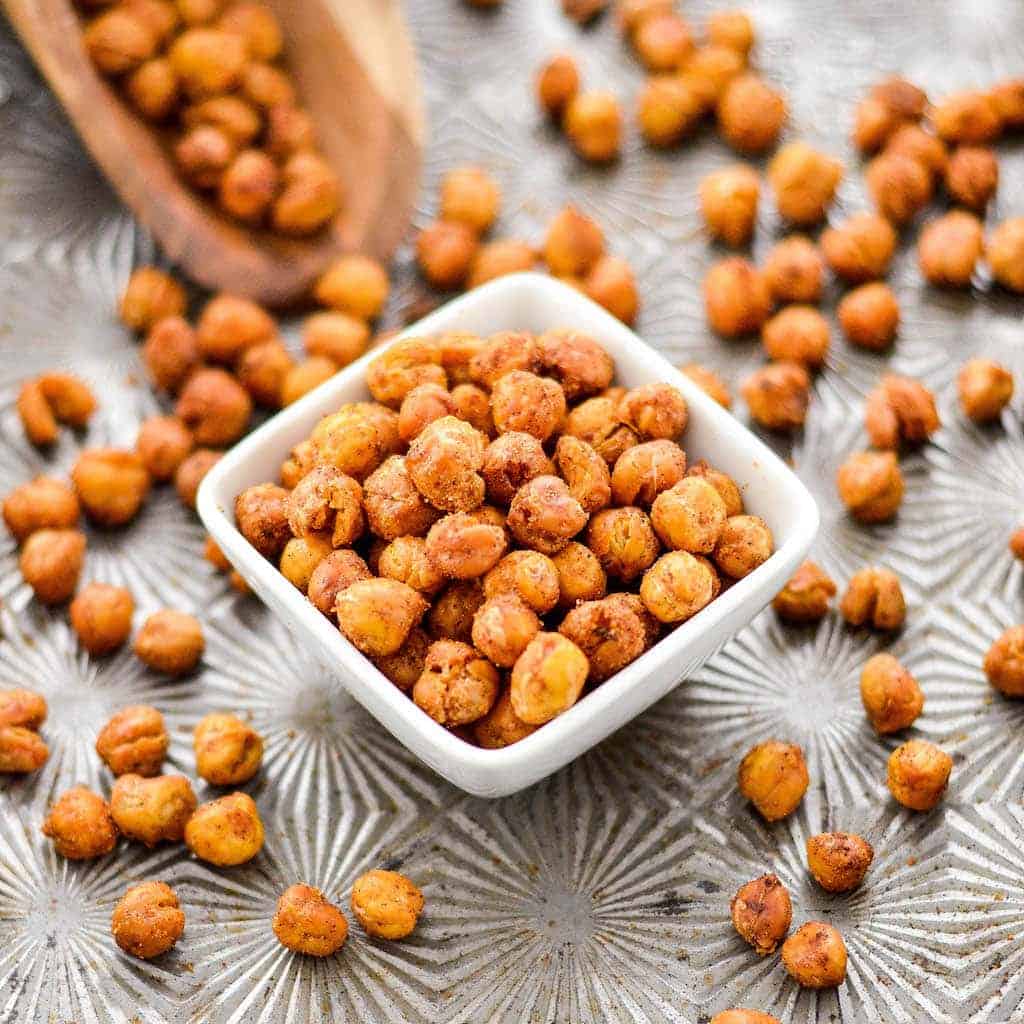 More Healthy Recipes