Do you love lemon desserts and you are looking for delicious and easy lemon crinkle cookies recipe? Look no further because today I am going to share a super simple, quick, and easy lemon butter cookies recipe.
These delightful and tasty lemon crinkle cookie recipe are always a huge hit. These soft lemon cookies are soft, chewy, and have a refreshing lemon flavor. It is guaranteed that everyone in your house would love eating these crinkle cookies lemon.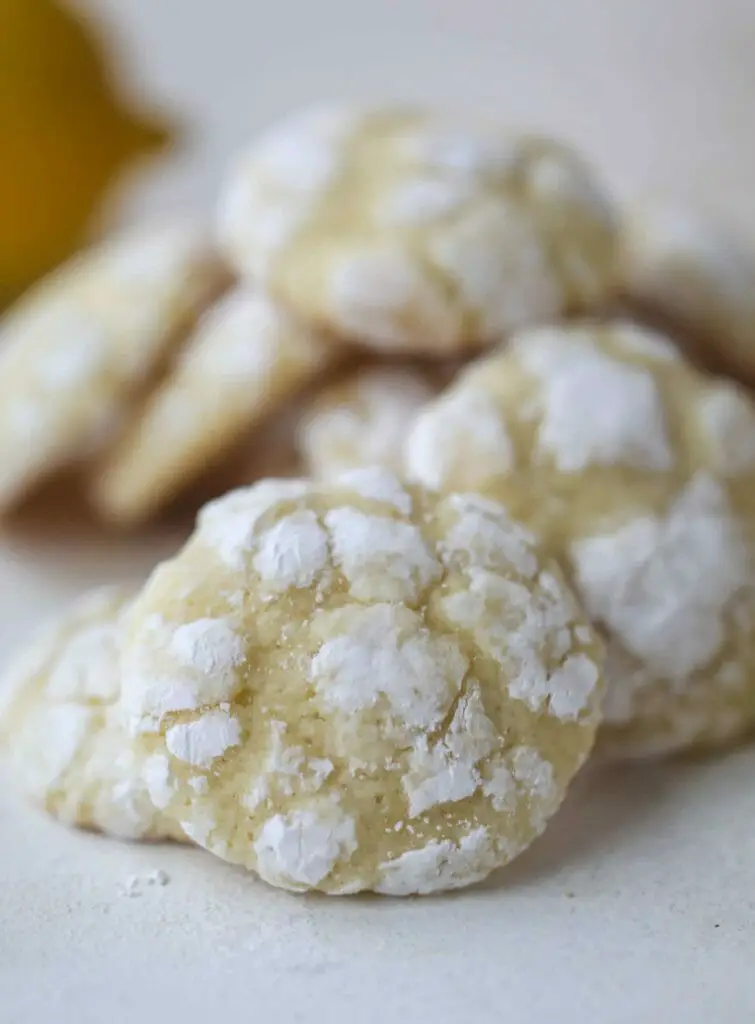 Lemon Crinkle Cookies Recipe
Ingredients
2 cups all-purpose flour
1/2 cup unsalted butter melted and cooled
2 tablespoons lemon juice
3 teaspoons freshly grated lemon zest
1 teaspoon lemon extract
1/2 teaspoon baking soda
1 cup granulated sugar
1 large egg
1 large egg yolk
1 teaspoon vanilla extract
1/4 teaspoon salt
powdered sugar for coating
Instructions
In a medium-size bowl, mix flour, salt, and baking soda and set aside.
Add melted butter and sugar in a large bowl and whip until smooth. Add egg yolk and egg, stir to combine. Then whip in lemon juice, lemon zest, and lemon extract. Stir in the dry ingredients and mix until the dough formed. Knead with hands to bring together the dough if needed. Keep in the refrigerator for 2-4 hours.
Preheat the oven to 165°C (325°F). Cover two baking sheets with parchment paper or butter paper.
Pour powdered sugar in a large bowl. Roll the dough into small 1-inch balls and coat with powdered sugar. Set the balls on the baking sheet at a distance of 2 inches. Bake award winning lemon crinkle cookies in preheated oven for about 10-12 minutes until the color is golden brown and edges are set.
Remove from the oven and let lemon crinkle cookies recipe cool on a cooling rack before serving.
More Healthy Recipes