Impossible pumpkin pie cupcakes are tender and moist pumpkin pies that you can eat with your hands. It is one of my favorite dessert recipes for fall and Thanksgiving.
My entire family is totally obsessed with these tiny pumpkin pie cupcakes with cream cheese frosting. These rich and creamy personal-sized treats are loaded with flavor, thanks to butter, pumpkin puree, brown sugar, and pumpkin pie spice.
Crustless pumpkin pie cupcakes don't need a crust, making them simple and swift to make. These easy pumpkin pie cupcakes are also an excellent wrap, and you can give them to your friends as a take-home gift.
THIS POST MAY CONTAIN AFFILIATE SALES LINKS. PLEASE SEE MY FULL DISCLAIMER POLICY FOR DETAILS.
Impossible Pumpkin Pie Cupcakes With Cream Cheese Frosting Recipe

Ingredients
2/3 cup all-purpose flour
1/2 cup white sugar
2 teaspoons pumpkin pie spice
1-15 oz can pumpkin puree
1/4 cup brown sugar
1/4 teaspoon salt
2 eggs
1/4 teaspoon baking soda
1/4 teaspoon baking powder
1 teaspoon vanilla
1-5 oz can evaporated milk
Instructions
Preheat the oven to 350 degrees Fahrenheit.
Line the cupcake pan with silicone cupcake liners or foil baking cup liners or spray the pan with non-stick cooking spray.
Take a large mixing bowl, add pumpkin puree, eggs, white sugar, brown sugar, vanilla, and milk, and whisk with a handheld or stand mixer.
Combine all-purpose flour, baking soda, baking powder, salt, and pumpkin pie spice.
Fill the cupcake pan about ½ full with the healthy pumpkin pie cupcakes batter.
Bake for about 20 to 25 minutes and then remove from the oven.
Allow the easy pumpkin pie cupcakes to sit in the pan for 20 minutes. When they are completely cool, shift them to the fridge for about 30 minutes.
Fill the decorating bag with whipped cream or cream cheese and frost impossible pumpkin pie cupcakes with cool frosting; sprinkle some pumpkin pie spice on the crown.
Serve to your guests and receive compliments.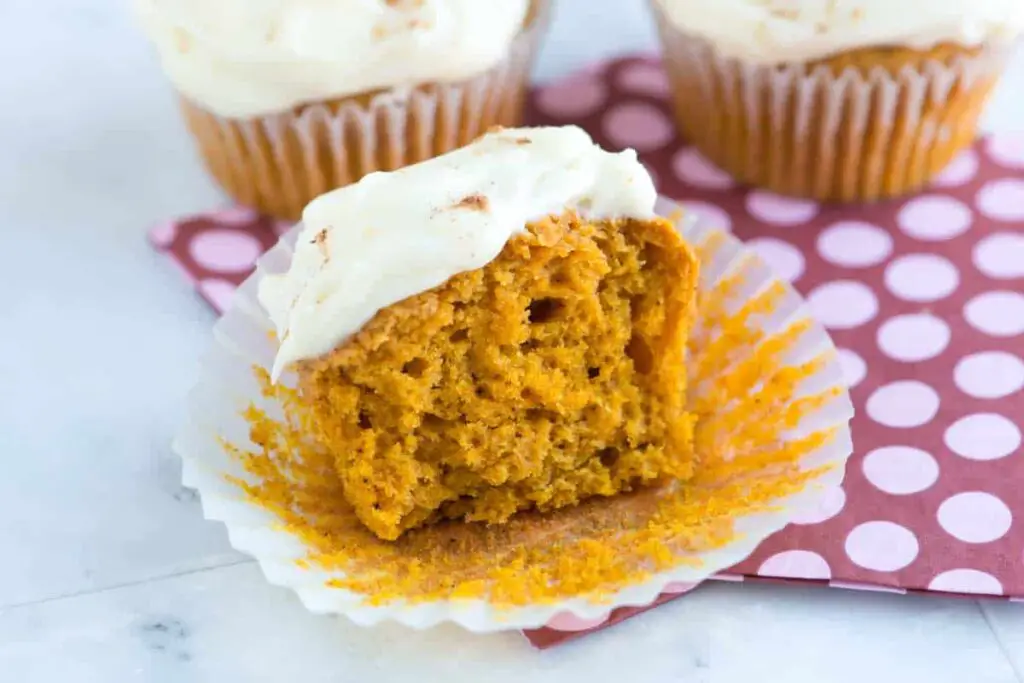 See More Recipes: