Are you browsing the internet to find the best popcorn butter recipes? Do you want to know how to make popcorn with butter? It can be really tricky to make the best popcorn from scratch.
But today, the method that I'm going to share with all of you guys is so simple and easy. By following my how to make movie theater popcorn butter recipe, it is guaranteed that all popcorn kernels will pop and they will not burn at the bottom of the pan.
My entire family loves how to make popcorn with butter on stove so, I make it almost every night. Without spending a lot of time in the kitchen, you will be able to make perfect instant pot popcorn that tastes crisp and delightful.
How To Make Popcorn With Butter?
Ingredients
1/3 cup popcorn kernels
3 tablespoons popcorn butter
3 tablespoons neutral popcorn oil
Pinch of salt
Instructions
Take a large heavy-bottomed saucepan, add oil and 3 popcorn kernels in it and turn the flame to medium-high.
Once 3 kernels pop, add the rest of the kernels, cover the saucepan with a lid. Remove pot from heat for 30 seconds and shake the pot to evenly distribute the popcorn kernels.
Return the pot to medium-high heat and continue cooking. When the kernels start popping, shake the pot to cook kernels evenly. After 2 -3 seconds, when popping slows down, remove the pan from heat and transfer popcorns to a large bowl.
Pour butter in the hot pan and let it melt. When it begins to brown, pour it over popcorns and mix with a wooden spoon and sprinkle a pinch of salt.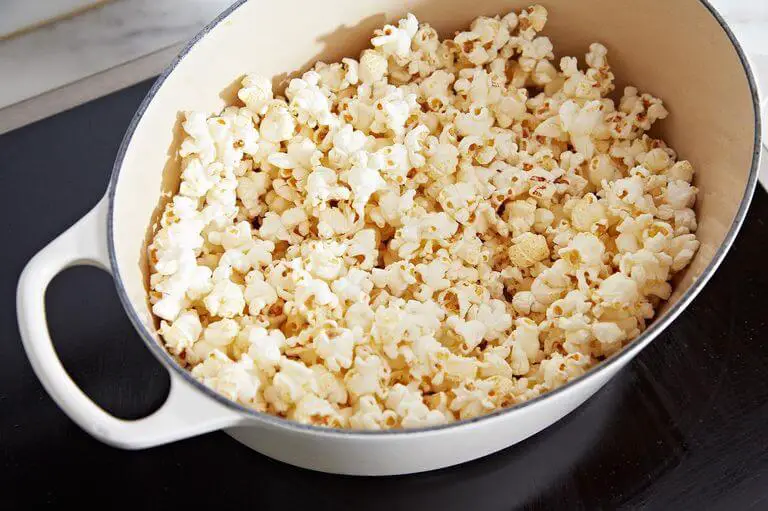 More Healthy Recipes