Are you looking for an easy last-minute dessert for Valentine's Day? Guess what, today, I'm going to tell you how to make chocolate covered strawberries with Nutella?
Some things in life look great together. Nutella covered strawberries are one of the few. They are one of the most prevalent and classic valentine's day recipes.
They are mouthwatering and super-easy and decadent treat that no one can resist.
Making this Nutella and strawberries dessert requires a few additional steps, and the outcome is exquisite.
You can personalize Nutella dipped strawberries any way you want by dipping them into various toppings. I have covered mine in chopped nuts.
THIS POST MAY CONTAIN AFFILIATE SALES LINKS. PLEASE SEE MY FULL DISCLAIMER POLICY FOR DETAILS.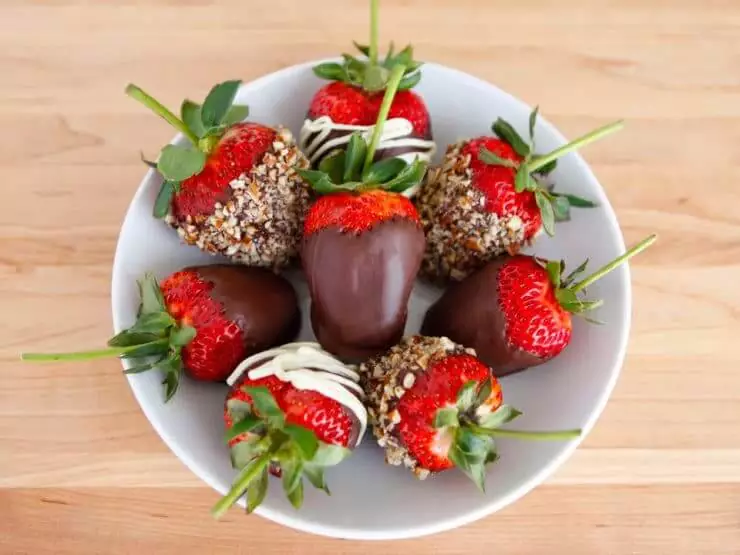 How To Make Chocolate Covered Strawberries With Nutella?
Ingredients
Instructions
Wash the strawberries very well and pat dry. Strawberries should be thoroughly dry with no drops of water present. Line a baking sheet with nonstick foil or wax paper.
Now, melt your chocolate in the microwave oven at 30-seconds intervals. If you are using both dark and white chocolate, melt them separately.
Once your chocolate is fully melted, you can use it to decorate. Put together your baking sheet, melted chocolate, and crushed nuts.

Dip the strawberries one by one into the chocolate and cover them ½ to ¾ of the way up. Lift and rotate the strawberry as you remove it from the chocolate, allowing the extra chocolate to drip back into the bowl.

If you don't want to coat strawberries with nuts, put them onto the baking sheet. Don't touch them once you have placed them on the sheet; otherwise, you will disturb the gorgeous chocolate shell.  

Dip the strawberries in crushed nuts and roll the chocolate hazelnut dipped strawberries softly into the nuts to coat before putting them on the baking sheet.

Now, if you want to drizzle white chocolate on chocolate covered strawberries with nutella, transfer the melted white chocolate into a plastic zipper bag's corner and seal. Cut a small tip off the bag's corner.

Squeeze the chocolate from the corner's hole gently, drizzling it in a thin stream on the strawberries' top, moving your hand to generate creative scribbles.

After decorating

strawberries

dipped in nutella

, put them in the fridge for half an hour till chocolate sets.

Serve how to make chocolate covered strawberries with Nutella chilled or at room temperature. Chilled chocolate will have an incredible crunch, while room temperature chocolate will be softer to bite through.