Are you seeking a delicious breakfast or snack that won't make you feel guilty? Look no further than these healthy blueberry protein muffins.
They are optimal for satisfying your sweet tooth and keeping your energy levels up all day.
They contain healthy nutrients, such as fresh blueberries and protein powder.
Besides, they are packed with fiber, low in sugar, and gluten-free.
Whether you are a fitness freak, a busy bee, or someone who loves a mouthwatering treat, the low carb high protein muffins recipe is ideal for you.
Try them today and watch them assist you in accomplishing your healthy eating goals while pleasing your taste buds.
Perks Of Blueberry Protein Muffins With Protein Powder 
Blueberry protein powder muffins provide countless health advantages, making them an incredible snack or breakfast option.
They are bursting with protein, critical for building and repairing body tissues.
These muffins are low in calories, making them a fantastic snack choice for people trying to maintain weight.
Moreover, they are packed with fiber, which helps digestion and keeps you full for an extended duration.
Blueberries are the star ingredient of these muffins. They are also renowned for their health benefits.
They are an outstanding source of antioxidants, which aids in shielding the body against free radicals that can cause cellular damage.
Plus, they have Vitamins K and C, vital for maintaining healthy bones and a healthy immune system.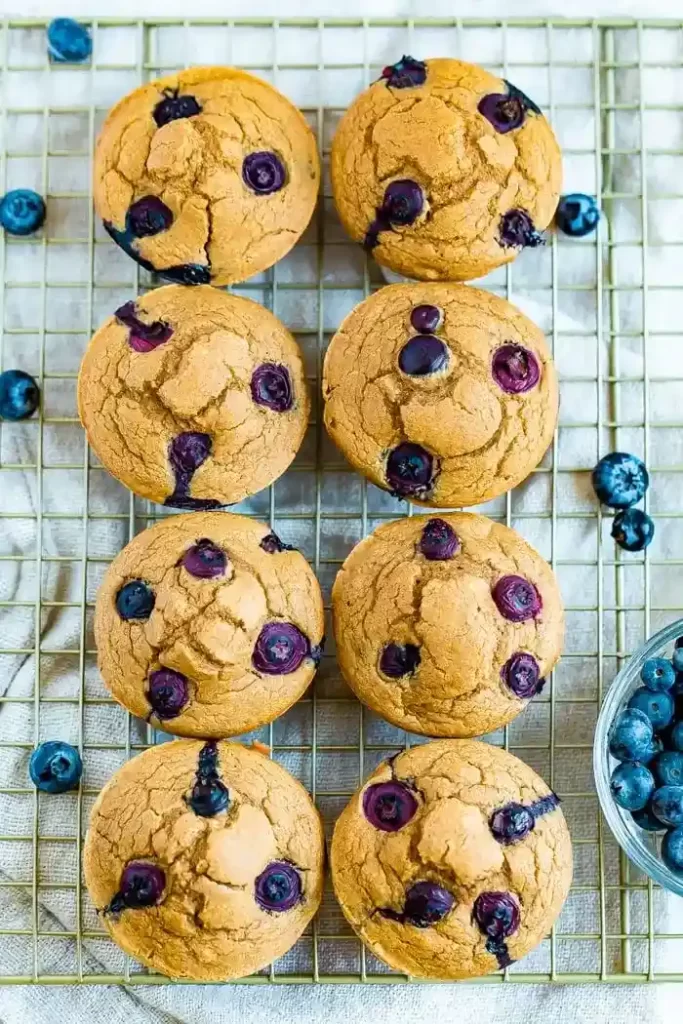 Recipe For Healthy Blueberry Protein Muffins
Ingredients
1/2 cup of coconut oil
2 eggs
1 tsp of vanilla extract
1 cup of coconut sugar
2 scoops of vanilla protein powder
2 cups of all-purpose flour
1/2 tsp of salt
2 tsp of baking powder
2 cups of fresh blueberries
1/2 cup of almond milk
Instructions
Preheat your oven to 425 degrees Fahrenheit and cream the sugar and coconut oil until the batter is creamy.
Add eggs one at a time, beat perfectly well after every addition, and then add vanilla essence.
Whisk together the salt, protein powder, flour, and baking powder in a separate bowl. Add this batter to the wet ingredients alternatively with the almond milk.
Use a fork to crush half of the fresh berries and mix them into the mixture. Fold in the remaining berries.
Prepare a muffin tin by lining it with muffin or silicone liners sprayed with coconut oil. Fill each muffin liner with the mixture using a scoop.
Bake the healthy blueberry protein muffins no banana for five minutes at 425 degrees Fahrenheit, then reduce the heat to 350 degrees Fahrenheit and bake for an extra twenty minutes.
To check whether or not they are done, insert a toothpick in the center. If it comes out clean, they are completely done.
How To Make The Perfect Blueberry Yogurt Muffins?
Utilize fresh blueberries for the finest texture and taste.
Avoid over-mixing the batter, as this can manifest in tough muffins.
Take advantage of an ice cream or cookie scoop to guarantee that each muffin is the identical size.
Allow them to cool wholly before storing them.
How To Store And Freeze Healthy Sour Cream Blueberry Muffins?
You can store healthy blueberry protein muffins low calorie in an airtight box in the refrigerator for 5 days. If you want to enjoy them longer, freeze them for three months.
To freeze them, permit them to cool thoroughly, then cover them individually in plastic wrap and put them in a freezer-safe container.
Serving Suggestions For Easy Blueberry Protein Muffins
You can enjoy these muffins as a snack or a quick breakfast while on the move. They pair incredibly well with a cup of tea or coffee. You can also serve them with a drizzle of honey or a spoonful of Greek yogurt.
Variations Of Protein Blueberry Muffins
If you wish to switch up your muffins' flavor, you can try the following variations:
Swap out the blueberries with raspberries, blackberries, or strawberries.
Add a tablespoon of flaxseed meal or chia seed for an added fiber boost.
Mix in a handful of chopped nuts, like pecans or almonds.
Add a teaspoon of cinnamon for a cozy and warm flavor.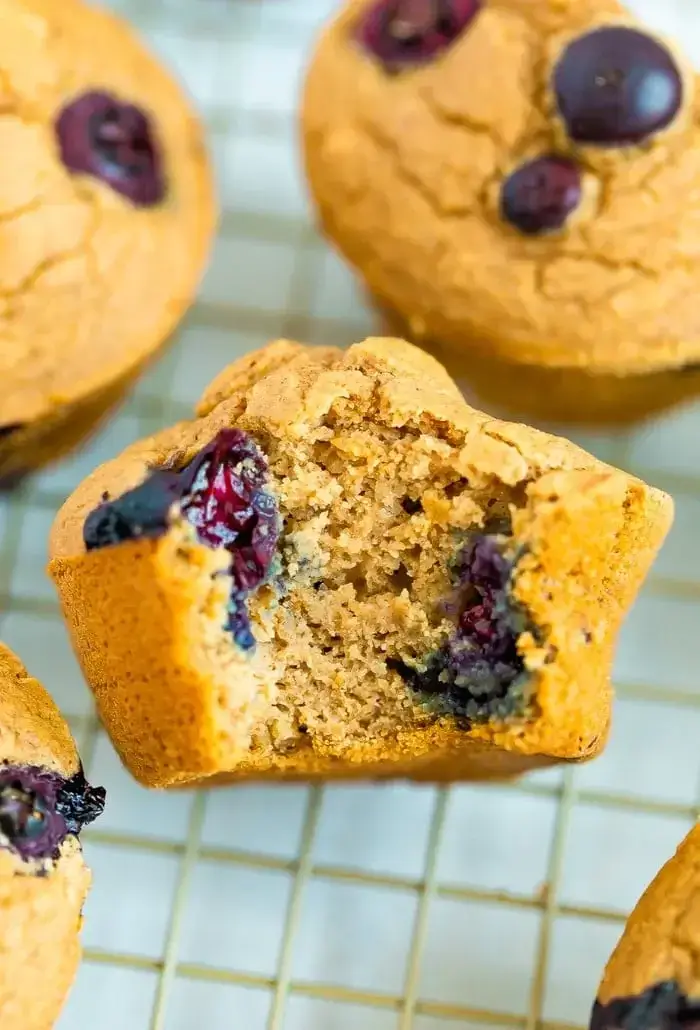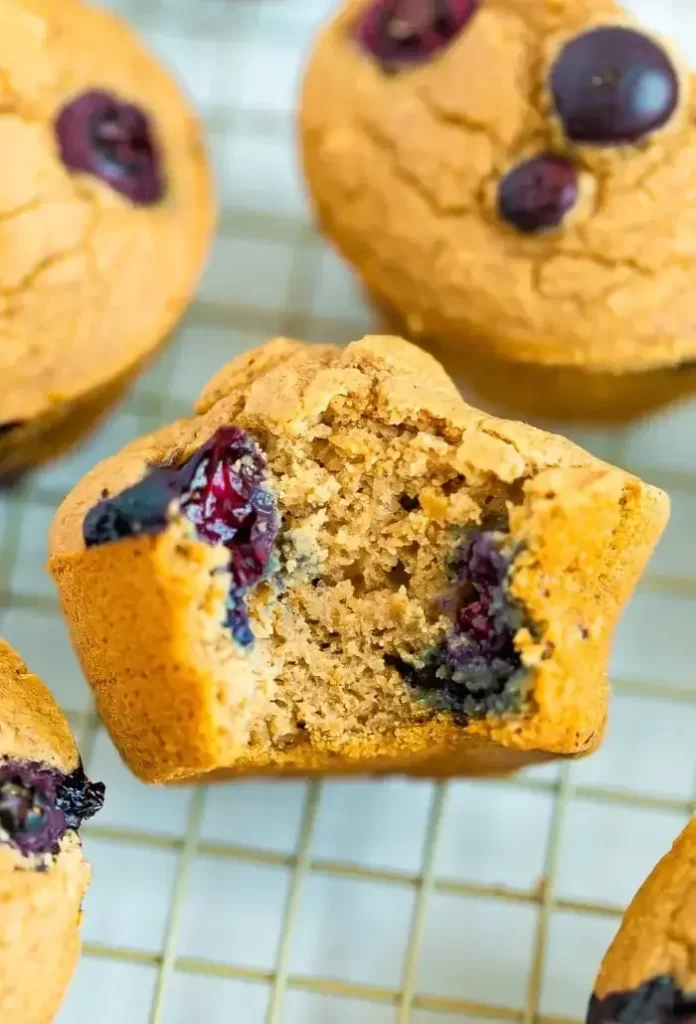 Conclusion
Blueberry protein muffins without protein powder are a lip-smacking, nutritious snack or breakfast option that will fuel your day. They are tremendously easy to make, and you can tailor them to suit your taste preferences.
By using healthy ingredients, you can enjoy guilt-free snacking that will offer your body the crucial nutrients to keep you energized and healthy. So, go ahead and bake these healthy lemon blueberry muffins today.
See Some Other Amazing Recipes