Most people would agree that cooking with fish can be a great way to cook at home.
This is due to a number of reasons. First of all, there are so many kinds of fish that you can cook with, and this helps to make it quite versatile as an ingredient.
There are also a lot of ingredients that you can easily put with simple fish recipes, and you are able to use some of your creativity here too.
In this post, we are going to take a look at four of the best fish dishes for dinner party that you might want to learn how to cook. These fish dinner ideas for family are all going to be great additions to your repertoire.
4 Fish Dishes For Dinner Party You Must Learn To Cook
1. Baked Cod
This is one of those meals that sound incredibly simple, and yet tend to be absolutely delicious.
Just baking a piece of cod can be hard to get right, in truth.
First of all, you will want to cover it in breadcrumbs for the healthiest option, and then make sure that you are cooking it for the right amount of time without overcooking.
Pair it with a simple lemon and garlic sauce with some parsley, and you have the makings of an amazing home meal.
2. Tuna Tataki
On the slightly more exotic end of the scale, we have something like this beautiful tuna tataki by overthefirecooking.com.
Here, you are using three tune filets and searing them with some seasoning and spices.
It's one of those apparently quite simple fine dining fish recipes that turn out to be absolutely delicious, and which you and your guests are going to want to eat again in the near future.
Make sure you are using the best quality tuna you can find, to really help, and pack those flavors in as best as you can when you are seasoning too.
3. Salmon Broccoli Pasta
One of the very simple fish dishes for dinner party that nonetheless brings people back again and again, this salmon broccoli pasta is one that anyone can cook at home in no time.
It's as simple as boiling up some linguine, tagliatelle or similar and pan-frying or baking a salmon filet.
You'll also want to boil some broccoli too. Then you mix all that together with a little creme fraiche and parsley, a squeeze of lemon and seasoning.
It's beautiful, fresh and simple, and great for summer lunches, so it's something you should definitely try out for yourself this summer if you get the chance.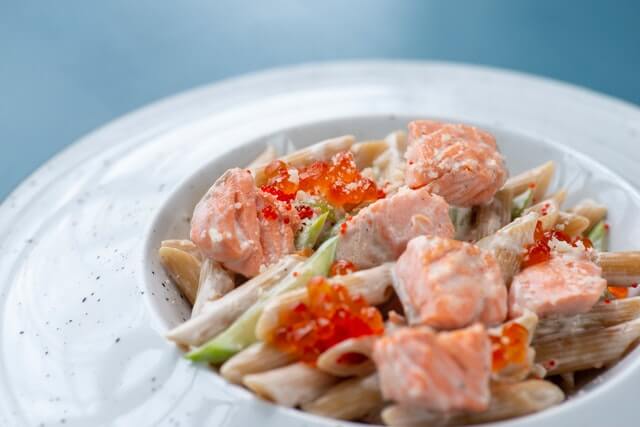 4. Fish Stew
Finally, there is the classic fish stew. The great thing about this is that you can do whatever you want with it, adding whatever flavors you personally prefer and whatever you want in general.
A lot of people opt for the Asian style influence, and with good reason – those flavors do tend to go very well with any white fish, and you won't need to splash out on an expensive piece of fish to make it work either.
All in all, this baked fish dinner recipes is one that you definitely want to have in your mind as best as you can.
Conclusion
So, these are the four fish dishes for dinner party that you must learn to cook. If you like my article on "make ahead fish recipes for dinner party" don't forget to share it with others.