Do you want to know how to bake lasagna and what to serve with lasagna? Are you searching for the easy meat lasagna recipe with ricotta cheese? Today, I'm going to share the world's best and easy lasagna recipe with ricotta cheese.
This homemade how to make meat lasagna recipe is very simple, quick, and delicious. You will find a warm and comforting balance between the layers of noodles, melted cheese, and tomato sauce.
The meat lasagna is great for feeding a huge crowd and it freezes and reheats well too.  You can't go wrong with this mouth-watering easy meat lasagna recipe with ricotta cheese.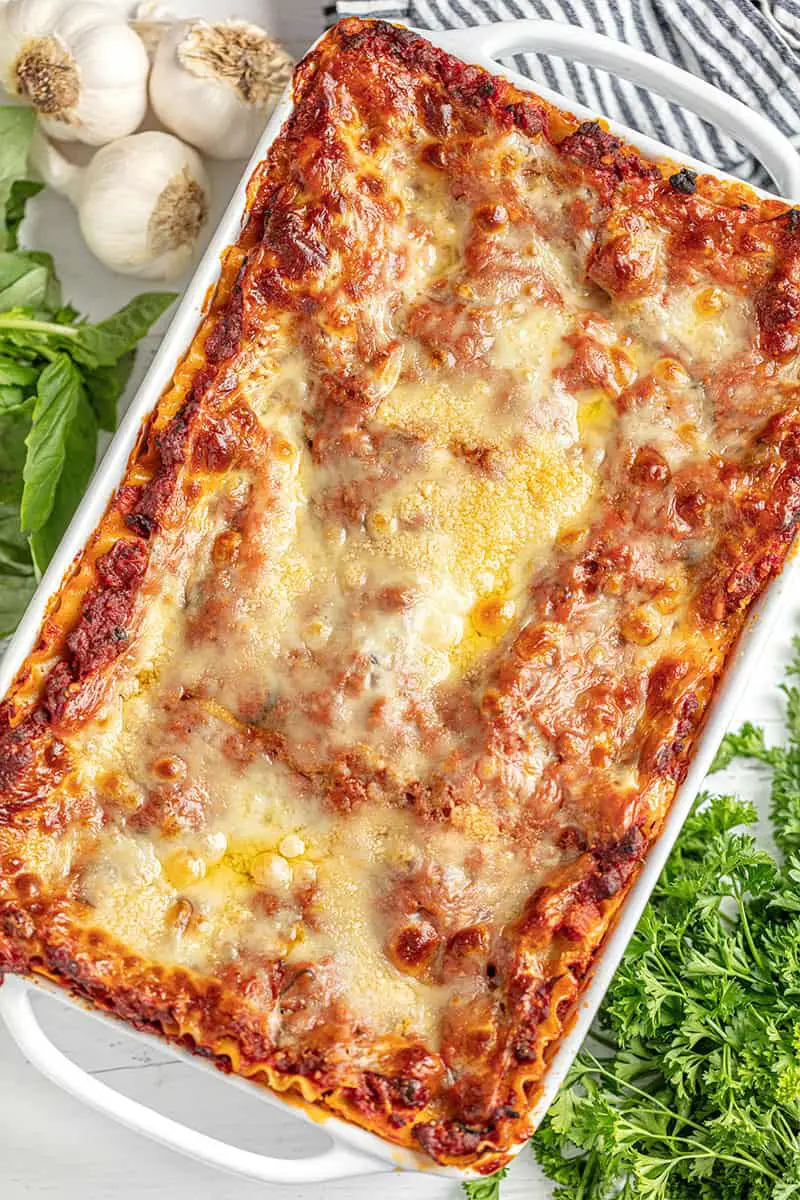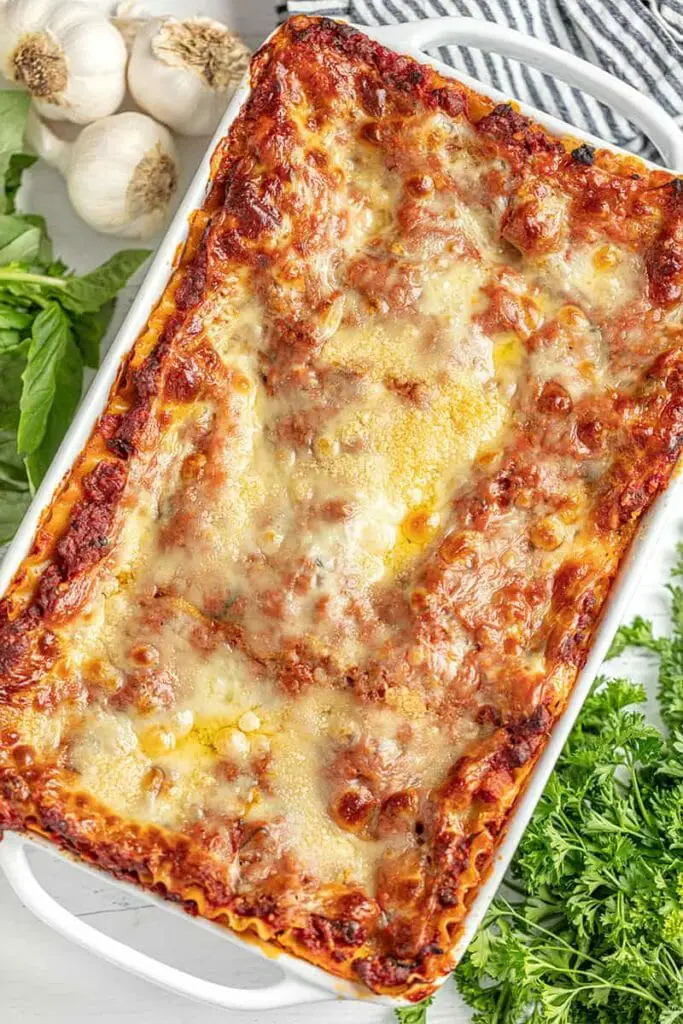 How To Make Easy Lasagna With Meat And Ricotta Cheese?
Ingredients
1 pound lean ground beef
1 can tomato sauce
1 can crushed tomatoes
2 cans tomato paste
¼ teaspoon ground black pepper
1/2 teaspoon salt
1 pound sweet Italian sausage
5 garlic cloves, minced
1 large egg
½ teaspoon salt
2 tablespoons white sugar
1 teaspoon ground oregano
1 teaspoon fennel seeds
1 large white onion diced
1/2 cup beef broth
1 pound lasagna noodles
1/8 teaspoon ground nutmeg
1 pound finely sliced mozzarella cheese 24 slices
1 cup freshly grated parmesan cheese
30 ounces ricotta cheese
1/4 cup chopped fresh parsley
1/2 cup chopped fresh basil
2 tablespoons chopped fresh parsley
 Instructions
Put ground sausage and ground beef in a large container over medium heat. Break the meat into small pieces with a spoon. Combine garlic and onion, stir frequently and cook until meat is browned. Add in fennel, ½ tsp salt, pepper, basil, oregano, sugar, and parsley.
Pour in tomato sauce, tomato paste, crushed tomatoes, and beef broth. Mix well until simmering. Boil for 1-4 hours on low heat and stir occasionally.
Now, take lasagna noodles in a pan and pour hot water over noodles, make sure that pasta immerses in water completely. Soak them for about 30 minutes in water then, remove from water and drain.
Mix ricotta cheese with eggs, salt, nutmeg, and parsley and refrigerate them until you are ready to assemble the easy lasagna.
Preheat oven to 190°C. Take a deep 9×13 pan and grease it lightly with oil.
For assembling, spread 1 cup meat sauce in the base of the prepared pan. Set 4 noodles on top, spread with 1/3 of the ricotta cheese mixture. Top with mozzarella cheese slices. Pour 1 and ½ cup meat sauce over mozzarella cheese and then sprinkle parmesan cheese. Make 3 complete layers by repeating the layering process. For finishing, place a final layer of pasta and top with 1 cup of meat sauce to cover the pasta. Sprinkle remaining parmesan and mozzarella cheese on top and wrap loosely with aluminum foil.
Place in preheated oven and bake for 25 minutes then, remove the foil and bake for more 25 minutes until cheese becomes brown.
Remove from oven and serve hot and easy meat lasagna recipe with ricotta cheese.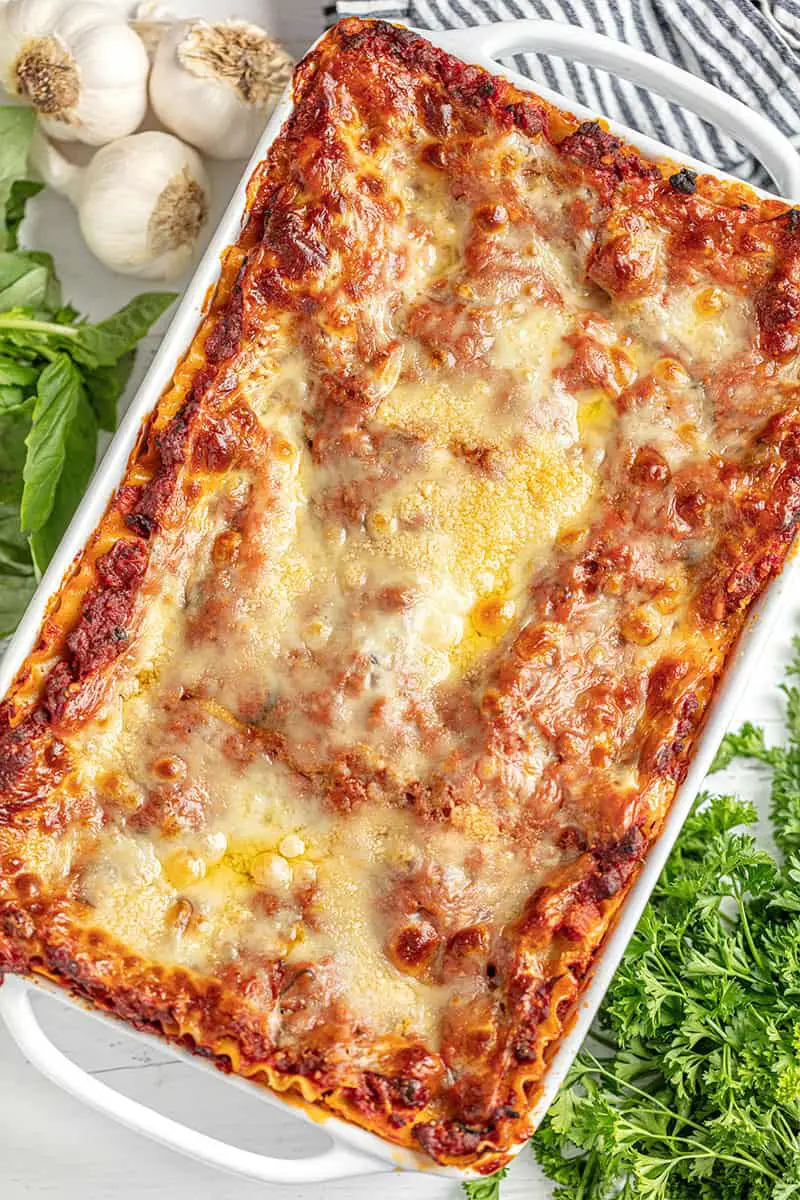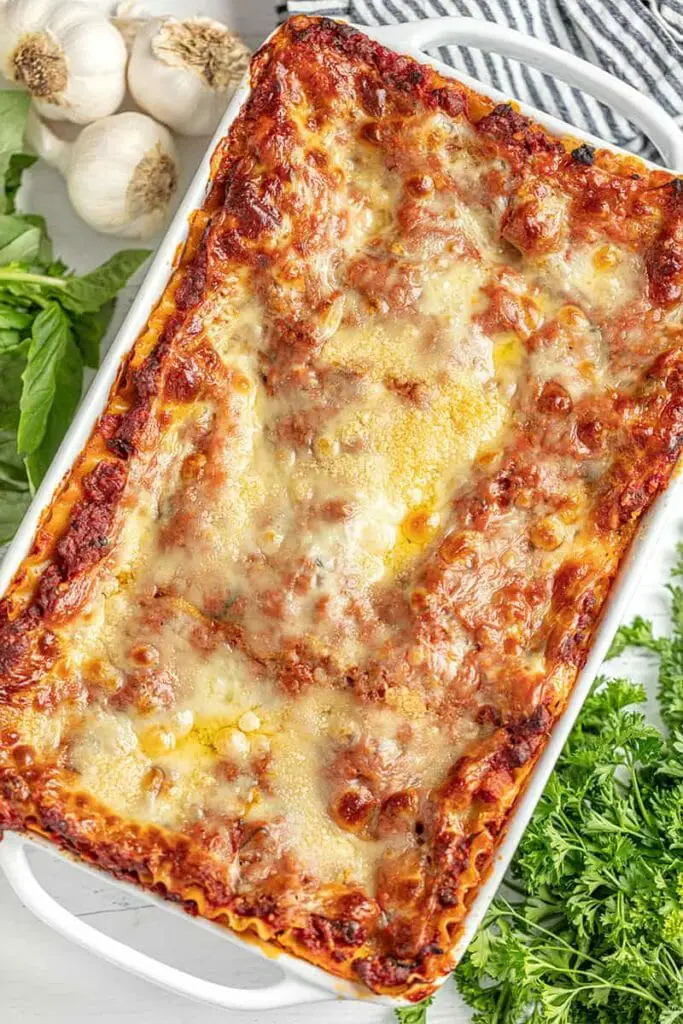 More Healthy Recipes