The easy banana pudding with cream cheese is supremely creamy and mouthwatering.
It's a southern classic that requires no baking. You can always find it for dessert at a family get-together.
To make this old fashioned banana pudding recipe, you need vanilla wafers, ripe bananas, whipped cream, and cream cheese.
It's an optimal way to satisfy your sweet tooth. This banana pudding with condensed milk and cream cheese may seem complicated with several seams; making it from scratch is a breeze.
It's an excellent make-ahead dessert that leaves your kitchen clean and organized for company.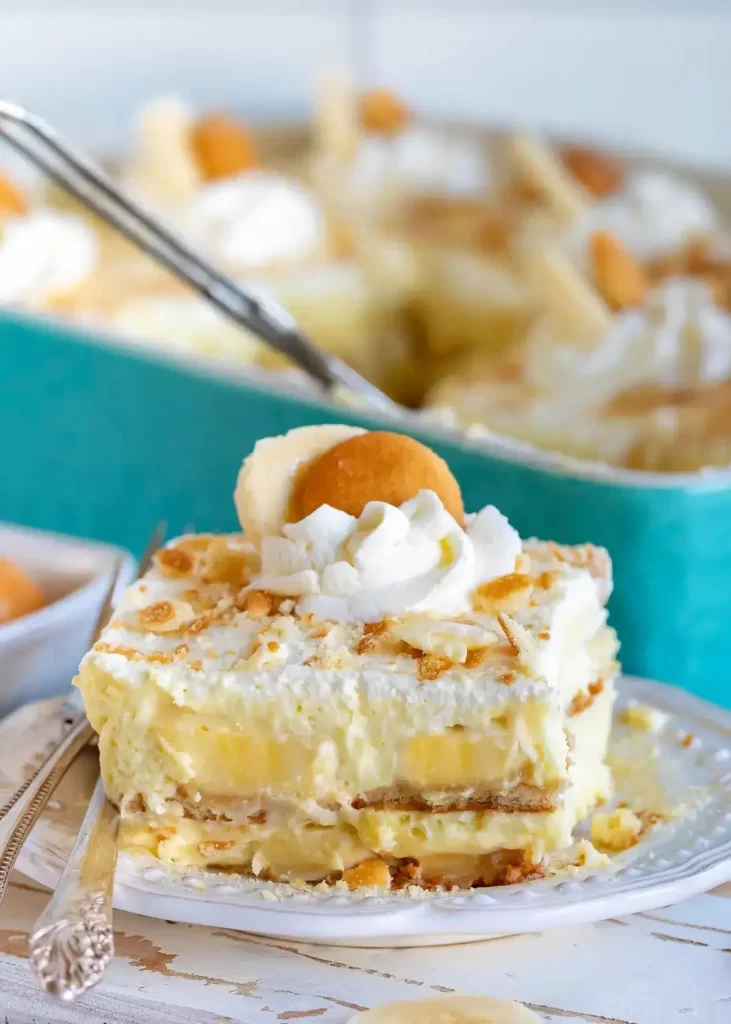 Easy Banana Pudding With Cream Cheese Recipe
Ingredients
10 ounces vanilla wafers
4 bananas, sliced
8 ounces cream cheese, room temperature
2 ¼ cups of cold milk
2 teaspoons vanilla essence
8 ounces cool whip or heavy cream, whipped
14 ounces sweetened condensed milk
5 ounces instant vanilla pudding
Instructions
Whip the cream cheese and condensed milk together until silky smooth, scraping the bowl's sides for about 3 minutes on medium speed.
Put the vanilla, milk, and dry pudding mix in the bowl and start mixing at low speed for 30 seconds. Gradually increase the speed until you are on high speed. Mix for 5 minutes until the mixture is smooth and thick, scraping the bowl's sides as needed.
Fold half of the heavy whipped cream or cool whip into the easy banana pudding recipe with cool whip and cream cheese until integrated.
Line a large dish with as many vanilla wafers as you can fit. Uniformly place the banana slices on the top of wafers. Spread the pudding on the top of the bananas and then remaining heavy whipped cream or cool whip on the top of the pudding.
Cover and refrigerate for 3-4 hours. Crumble some vanilla wafers on the top of the banana pudding recipe using cream cheese and serve to your loved ones.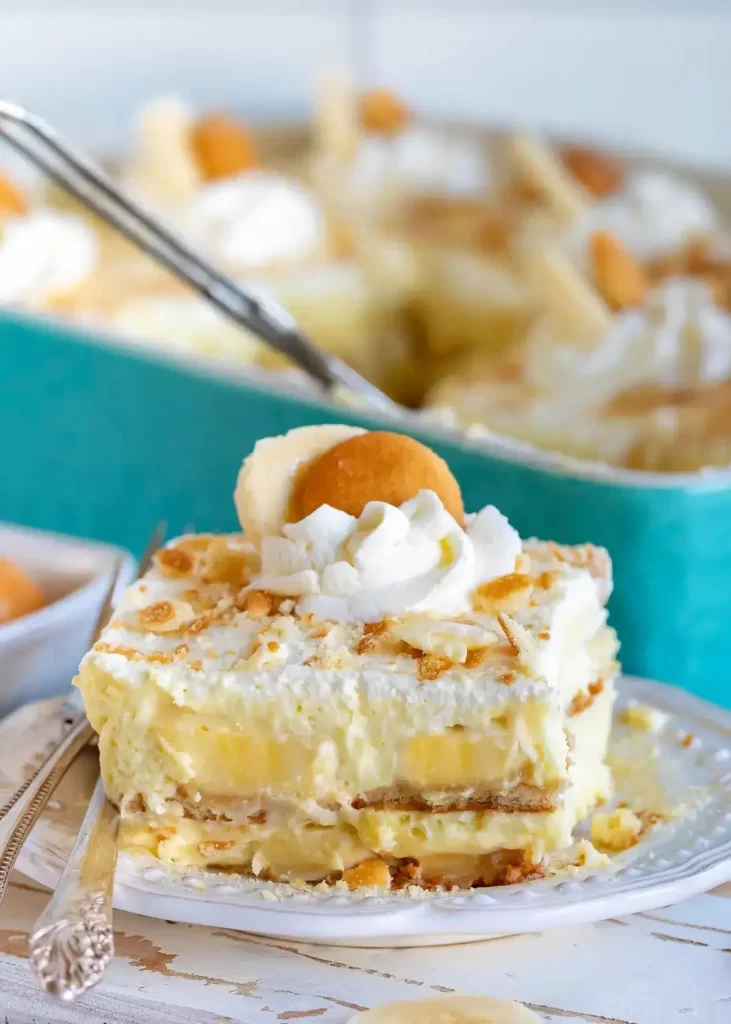 Frequently Asked Questions
1. Can You Utilize Banana-Flavored Instant Pudding Instead Of Instant Vanilla Pudding?
Yes, you can use banana-flavored instant pudding.
Some people don't like the flavor of artificial banana in the pudding, but it's entirely your choice.
You can also utilize banana essence instead of vanilla essence.
2. How To Prevent Bananas From Turning Brown?
Sprinkle a small amount of citric acid powder onto the slices of bananas.
You can also lightly cover the banana slices in orange or lemon juice.
Remember; coat them lightly because you don't want to change their flavor.
3. What Bananas Are Perfect For The Easy Banana Pudding With Cream Cheese Recipe?
Ripe bananas with no green or brown spots are perfect for this recipe.
They should be ready to eat that day. Also, bananas should be fresh because they have the best flavor and texture.
4. Is It Possible To Make 3 Ingredient Banana Pudding Ahead Of Time?
You can make it three days in advance. However, bear in mind that bananas will turn brown.
So, if you want to make this recipe ahead of time, your bananas may turn brown.
5. How Long Does Old Fashioned Banana Pudding Recipe Last?
You could store it in the refrigerator for three days if you made it the same day as the dinner.
Bananas can last for at least three days. So, if you make this recipe three days ahead, hurry and nibble it up.
However, if you make it fresh for the get-together, you have got three days to keep eating.
6. Can I Freeze Cream Cheese Banana Pudding With Condensed Milk?
It's better not to freeze it. Freezing and defrosting will generate excessive moisture, making it extremely mushy.
Eat it fresh to enjoy the best texture and taste.