Classic roast beef and gravy recipe is one of the most mouthwatering comfort foods.
Tender and juicy roast beef crowned with homemade gravy, along with mushrooms and carrots, this delicious classic dish is perfection. 
I assure you that you will want to make this southern roast beef and gravy recipe again and again. 
THIS POST MAY CONTAIN AFFILIATE SALES LINKS. PLEASE SEE MY FULL DISCLAIMER POLICY FOR DETAILS.
Classic Roast Beef And Gravy Recipe
Ingredients
1 kg (2 lbs) beef sirloin tip oven roasts

3 cloves garlic, finely grated 

1/2 teaspoon pepper

 2 tablespoons olive oil

 3/4 teaspoons salt

 4 teaspoons minced thyme

 2 tablespoons all-purpose flour

 2 cups sodium-reduced beef broth

 2 teaspoons Dijon mustard

 1/3 cup dry red wine

 1/4 cup finely chopped parsley
 Instructions
Rub

classic roast beef gravy recipe

all over with garlic, salt, oil, half of the pepper, and thyme. 

To make old fashioned roast beef and gravy

place the beef in the roasting oven on the greased rack. 

Roast the beef in the oven for about 19 minutes at 450°F until starting to brown, then decrease the heat to 275°F and roast for 60 minutes, infrequently basting, until an instant-read thermometer is placed in the middle reads 140°F for medium-rare.

Then shift the beef to the cutting board and tent with foil. 

Let it rest for 15 minutes, and then slice thinly against the grain. 

Remove all but 2 tablespoons of fat from the pan while the

christmas

roast beef is resting.

Add the flour and cook on medium to high heat for about 3 minutes until it turns golden. 

Add in the wine, with the help of a wooden spoon, scrape up the browned bits. 

Add the remaining pepper and broth and boil it on medium heat. 

Continue cooking for 5 minutes stirring infrequently until thickened. After that, strain it using a fine-mesh sieve. 
At last, add the mustard, parsley, and any collected juice from the cutting board—top classic roast beef recipe with gravy. 

Classic roast beef with gravy recipe is ready to serve. Enjoy!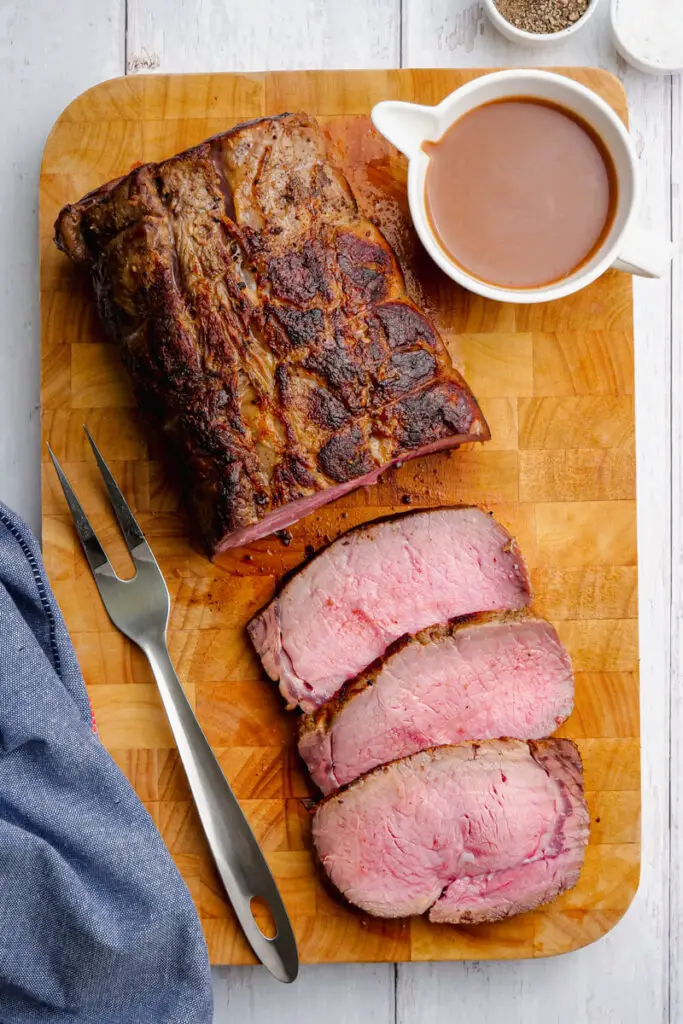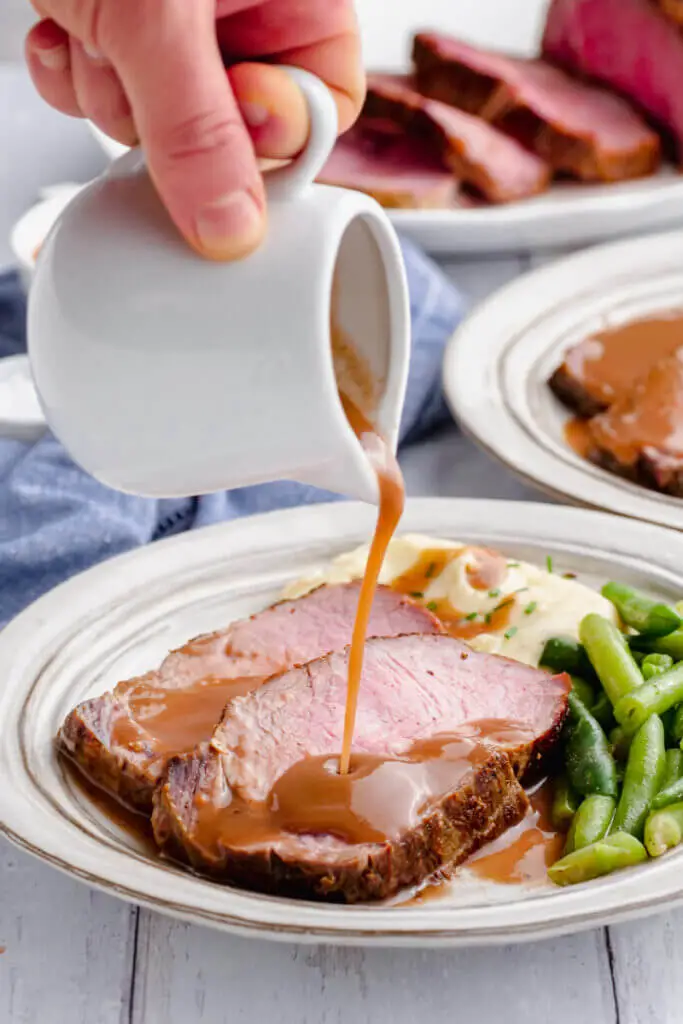 Check Other Amazing Recipes