Let's try something a little different this weekend? This Christmas nut roast recipe with cranberries is loaded with deliciously and savory blend of dry fruits, nuts, fresh herbs, and cranberries.
This healthy and easy cranberry nut roast recipe will be a showstopper with meat-eaters and vegetarians when served with cranberry sauce.
Christmas Nut Roast Recipe With Cranberries
Ingredients 
300g parsnips, peeled and roughly chopped

1 onion, peeled and finely chopped

100 g walnut halves

200 g breadcrumbs

1 tablespoon rapeseed oil

1 clove garlic, crushed

90 g unsalted cashew nuts

100 g pine nuts

100 g cranberries, plus extra to serve

20 g unsalted English butter

0.25 fresh rosemary, finely chopped, plus extra sprig to serve

3 tablespoons cranberry sauce 

1 medium British free-range Woodland egg 
Instructions
Preheat the oven to 180ºC to make

nut roast with cranberries recipe

.

Take water in a large saucepan, bring it to boil, then add parsnips and cook until tender. 

Heat the oil add garlic in a saucepan and onion, and cook until they become soft. 

Now whizz the cashews and walnuts and stir through the breadcrumbs. 

Add in the garlic, onions, half of the cranberries, pine nuts, and rosemary to the mix, and then whisk in the egg.

When the parsnips become tender, strain and mash them with butter; otherwise, blend in a food processor. 

Combine the mashed parsnips with the remaining of the mix. Fill the mixture in a 1.5-liter loaf tin.

Place the tin in preheated oven and bake for about 50-55 minutes until the vegan

cranberry nut roast

is set and feel firm.

Remove the

Christmas nut roast from the tin and take it out on a plate. 

Heat the cranberry sauce with the remaining fresh cranberries. 

Spread it over the top of the Christmas nut roast recipe with cranberries and garnish rosemary springs and fresh cranberries to serve.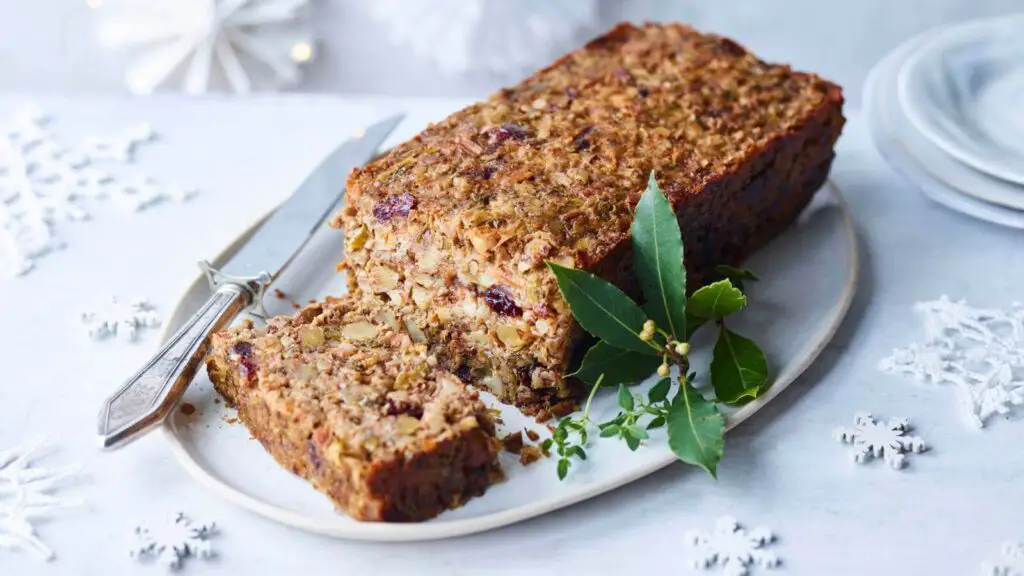 Check Other Amazing Recipes