Chinese fried ice cream recipe is one of the most traditional Chinese dishes. Famous globally, it is a cuisine loved by grownups and kids, thanks to the crunchy and Chinese deep fried ice cream batter. The batter encloses the ice cream.
In short, fried ice cream with honey is cold inside and warm externally. We assure you that this delightful and mouthwatering dessert will leave you speechless. The process is quite long, but you can easily make this luscious asian fried ice cream with bread at home.
THIS POST MAY CONTAIN AFFILIATE SALES LINKS. PLEASE SEE MY FULL DISCLAIMER POLICY FOR DETAILS.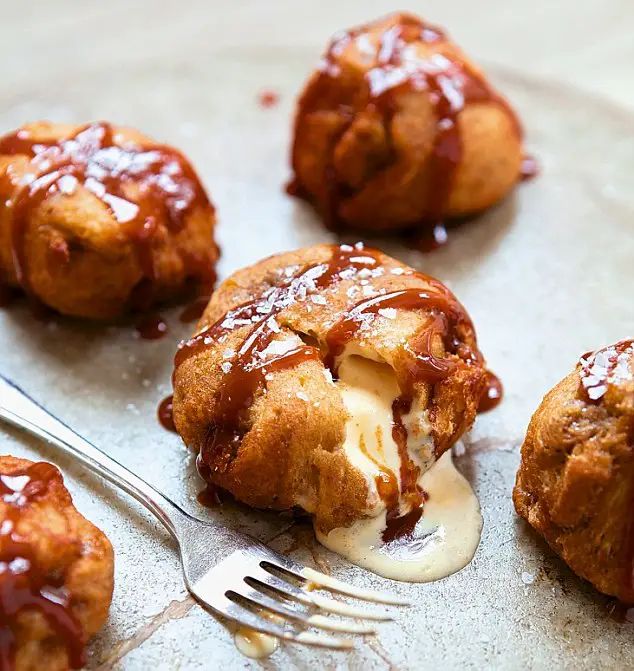 Why Doesn't Deep Fried Ice Cream Melt?
These are the small ice cream balls that are frozen at a very low temperature. They are then rolled in a mixture of cornflakes, breadcrumbs, or tempura and then deep-fried. The coating works like an insulating agent, so the deep fried ice cream Chinese does not melt inside.
Does Rolled Ice Cream Taste Different?
Actually, its taste is very much similar to scooped ice cream. It is a lot more creamy and photo-worthy, thanks to the toppings.
How Do You Eat Fried Ice Cream?
You can serve it with chocolate or caramel sauce. This tasty Chinese deep fried ice cream recipe is prepared by taking a scoop of ice cream of any flavor that is frozen at a very low temperature and then coating it in raw egg, rolling it in cornflakes, breadcrumbs, or cookie crumbs, and deep frying it.
Can You Make Fried Ice Cream In Advance?
Yes, you can create the Chinese ice cream balls and roll them in the breadcrumbs coating a few days ahead. Keep them frozen and wait to top them until just before you serve them.
Chinese Fried Ice Cream Recipe
Ingredients
Caramel Sauce
¾ cup thickened cream
75g butter
1 cup of brown sugar (soft)
Instructions
First of all, scoop rounded asian ice cream balls with a spoon and place them on a tray. Put the tray in the refrigerator, where it will remain for the whole night.
Then, place the sponge cake slices to encompass the ice cream balls in a single layer wholly. If you see any gaps, use the cake crumbs to fill them. Put it again into the refrigerator for at least three to four hours. If possible, let it be there overnight.
Now, bring the balls out of the freezer and roll them in beaten egg and then in the breadcrumbs. Then again, return them to the refrigerator for the whole night.
Take a saucepan for making the caramel sauce. Add brown sugar and butter to melt them. Cook on a medium flame for at least 8 to 10 minutes until it becomes a dark caramel. Then, combine the cream and boil for 4 to 5 minutes or until it becomes thick and smooth.
Heat the vegetable oil to 200C and deep fry the ice cream balls for a few seconds until golden brown. Drain the crispy fried balls for a few seconds. Then, serve Chinese fried ice cream recipe with caramel sauce.
You can store this delicious ice cream in the refrigerator for up to 3 months.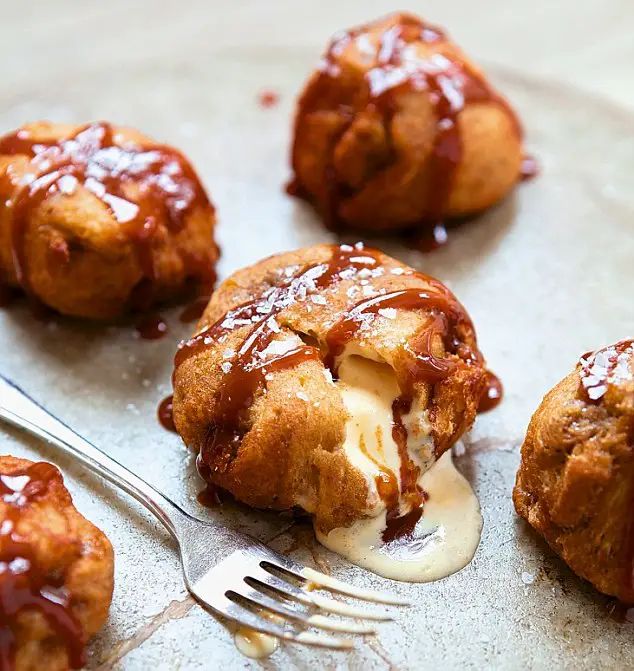 Check Other Amazing Recipes