Do you love both carrots and cake and you are searching for the best moist carrot cake recipe in the world? This healthy carrot cake is very easy to make and perfectly moist. It is topped with my favorite homemade cream cheese frosting for carrot cake.
Most people make carrot cake around festivities but honestly, this delicious wasc carrot cake can be enjoyed all around the year. It's full of flavor, so I'm sure that after taking one bite, it will be impossible for you to stop yourself.
Best Moist Carrot Cake Recipe In The World
Ingredients
For The Carrot Cake
2 cups all-purpose flour
4 large eggs room temperature
3 cups grated carrots, lightly packed
2 teaspoons baking powder
1 teaspoon baking soda
3/4 cup canola or vegetable oil
1/2 cup granulated sugar
1 and 1/2 cups light brown sugar
1 teaspoon vanilla extract
1/2 teaspoon ground ginger
1/2 teaspoon salt
1/2 cup unsweetened applesauce
1/4 teaspoon ground nutmeg
1 and 1/2 teaspoons ground cinnamon
For Cream Cheese Frosting
1 package brick-style cream cheese, softened to room temperature
2 cups powdered sugar
1 teaspoon pure vanilla extract
½ cup unsalted butter softened to room temperature
Instructions
To Make Carrot Cake
Preheat the oven to 177°C. Line two 9-inch cake pans with parchment paper or spray with non-stick cooking spray and set aside.
Mix flour, cinnamon, nutmeg, ginger, baking soda, baking powder, and salt in a large mixing bowl until combined and set aside.
Whip together eggs, brown sugar, granulated sugar, vanilla extract, oil, and applesauce in a separate large bowl until well combined. Add shredded carrots in wet ingredients and mix until incorporated.
Pour the wet ingredients into the dry ingredients and mix with a rubber spatula until incorporated, do not over mix the batter.
Transfer the cake batter into the prepared pans evenly. Bake at 177°C for 30 to 35 minutes until the tops of the cakes are set and inserted toothpick in the center comes out clean.
Remove from the oven and move to a wire rack and let them cool in the pans for about 20-25 minutes. Remove the pans when cakes have cooled and put back the cakes to a wire rack for further cooling.
 To Make Cream Cheese Frosting For Carrot Cake
In a large mixing bowl, beat the cream cheese by using a hand-held mixer until the cream is smooth. Add butter and whisk for about 30 sec to 1 minute until smooth and well cooperated.
Mix in the sugar and vanilla extract and continue mixing until fully combined. Clear out the sides of the bowl if needed.
 To Assemble The W

orld's Best Carrot Cake Recipe



Level the tops of cakes with a knife. Put the

best carrot cake recipe in the world

on the tiered cake stand, top the cake with a ½ cup of frosting, and even it's level. Place the other

healthy moist carrot cake recipe

on the top and use the leftover carrot cake frosting to frost the sides and top of the cake.
Top the best moist carrot cake recipe in the world with desired toppings and serve.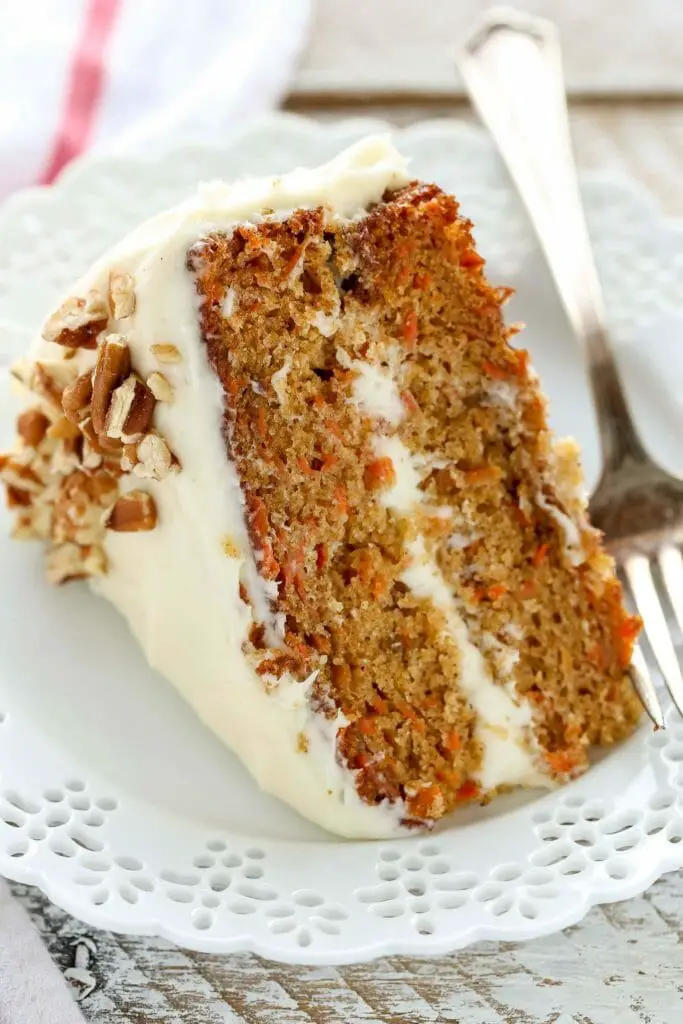 More Healthy Recipes