The best mince and cheese pie recipe is a tasty and family-friendly dinner for Christmas.
Made up savory beef mince, crunchy flaky pastry with a few herbs, and melted mozzarella and cheddar cheese.
Honestly, it's a superb crispy and cheesy match! The old fashioned mince beef pie will definitely be your new favorite recipe.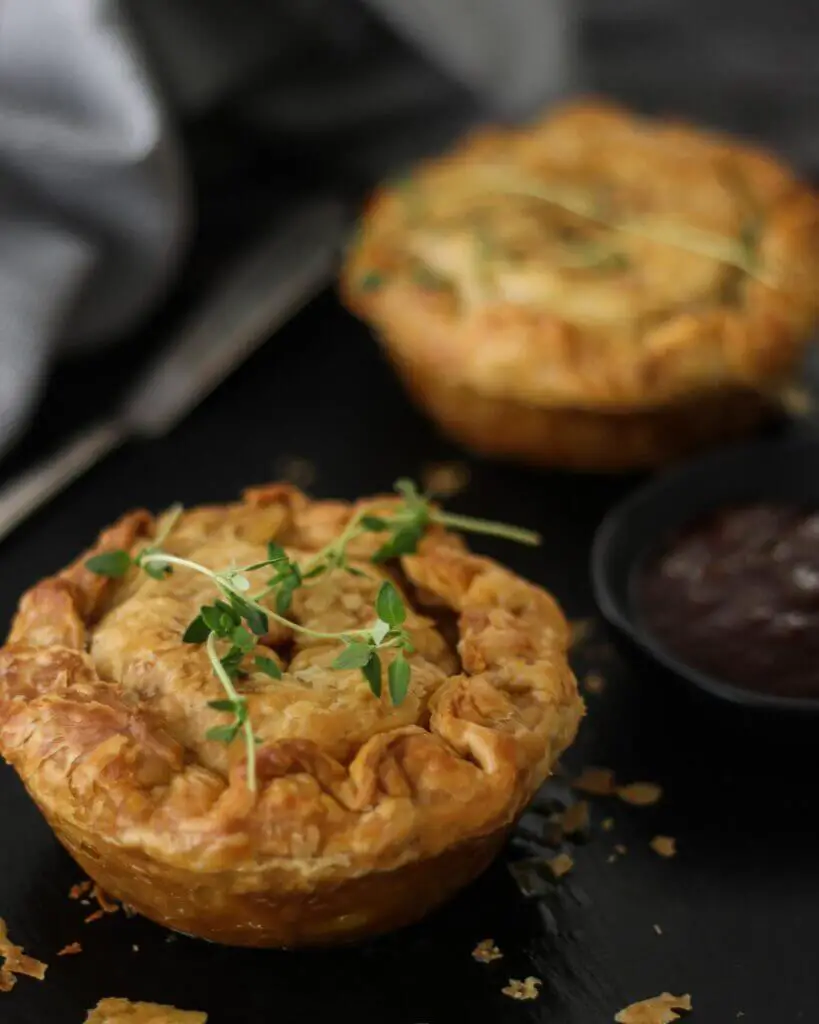 Best Mince And Cheese Pie Recipe
Ingredients
2 sheets frozen butter puff pastry
1lb / 500g ground beef / beef mince
⅓ cup / 40g flour
2 cups / 500ml beef stock
3 teaspoon Dijon mustard
1 tablespoon worcestershire sauce
2 garlic cloves
1 tablespoon soy sauce
1 teaspoon oil
¼ cup shredded mozzarella cheese
¼ cup shredded cheddar cheese
Instructions
Beef Mince Pie Filling Recipe

Take a frying pan and place it on medium heat. Add garlic and oil to the frypan while it's warming up and cook for a few minutes.  

Add the beef to the pan and set the heat to high. With the help of a wooden spatula, break the mince and stir frequently until it becomes brown.

Set the heat to low and add the soy sauce, mustard, pepper, and Worcestershire sauce and stir to mix. 

Dust the flour over the beef and cook for a few minutes while stirring. The mixture will become a little thick and stodgy, but this is fine. 

Add half of the beef stock into the frying pan slowly and mix. Immediately the beef mixture must start to thicken up. Once mixed, pour in the remaining half.

Set the heat to low and stew the beef mince filling until thickened for about 30 minutes to an hour, stirring infrequently. 

Fully cool the mixture before filling in the homemade mince and cheese pie for best results.

Take out the frozen puff pastry sheets and defrost at room temperature when you are ready to make the easy mince pie recipe. 

To fit the sheets in your pie pans, roll the sheets a little thin and cut 4 rounds of every sheet.  In the pie pans, place the pastry and put the beef mince filling into them. 

Top the pies with shredded Mozzarella and Cheddar cheese and top with the second round of pastry.

To seal the filing in pies, fold the overhang of pastry from the bottom over the crest. 

Prick steam holes into the crest of every

mince cheese

pie recipe to escape the steam. Keep in the refrigerator for 30 minutes before baking to chill.
Preheat the oven at 200°C and place the

minced beef and cheese pie

in the oven and bake until the pies are golden brown and cooked through for about 20-25 minutes.

Let the best mince and cheese pie recipe

cool for about 5-10 minutes before serving. Store the leftovers in the refrigerator for 4 days.
Check Other Amazing Recipes