Are you a gnocchi dishes lover and you are looking for an easy baked gnocchi recipe? This vegetarian baked gnocchi recipe is supremely delicious and quick. It is loaded with lots of tomatoes and spinach, the simplest sauce, and topped with mozzarella cheese. You can serve this tasty baked gnocchi in the lunch or dinner.
How To Cook Baked Gnocchi?
Ingredients
800g Fresh gnocchi
1 Large Onion peeled and chopped
700g Passata
80g baby spinach
300g Mozzarella Cheese
1 teaspoon Olive oil
1 teaspoon Honey
3 Garlic cloves peeled and crushed
Salt and freshly ground black pepper
Optional
Freshly grated parmesan to serve
 25g fresh basil
Instructions
Preheat the oven to 200°C (392°F).
Heat the olive oil in a large pot.
Add onion and garlic and cook for about 5 minutes until golden and softened.
Put in the pepper, honey, salt, gnocchi, and passata. (Add fresh basil if required).
Mix everything for about 5 minutes until incorporated and when the spinach begins to wilt.
Top with mozzarella cheese pulled into pieces.
Place the pan into the preheated oven for about 15 minutes until the cheese is bubbling, golden and delicious.
Top with fresh basil and serve.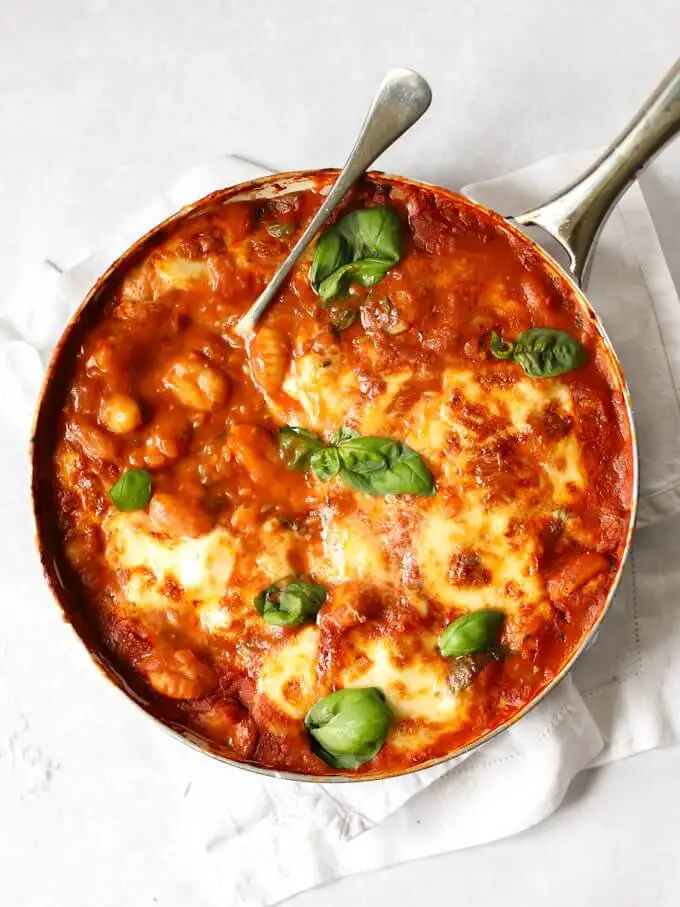 More Healthy Recipes